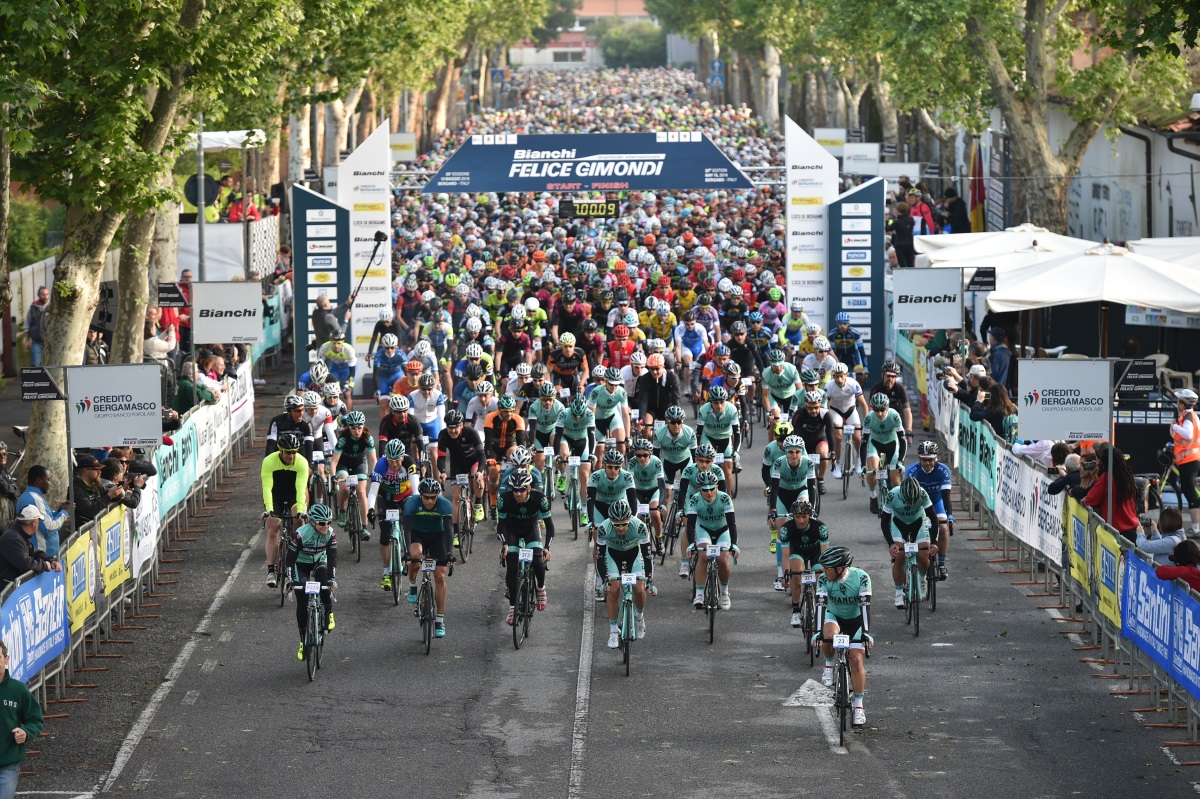 GF Gimondi-Bianchi: a hymn to women and friendship
The winner on the finish arm-in-arm with his best friend and a wonder-mom putting on a great show: a successful family event seals the 20th anniversary
To properly celebrate its 20th edition, Granfondo Gimondi-Bianchi moved over itself: today in Bergamo, almost 4.000 riders (3.904), sun and mild weather, and a fantastic party atmosphere that continued afer the race in the big gardens of the Lazzaretto area. "It is beautiful to see so many people gathering and have fun together: it's an amazing fest for sports and families," stated Felice Gimondi, in whose name the event has established a solid tradition, becoming a benchmark for organization quality in the amateur cycling world.
Tommaso Elettrico (Team Miche-MG.K-Vis) was the overall winner, clocking a 4h35.44 time in covering the long-distance, 162,1 km course. Igor Zanetti got to the the finish side-by-side with the winner, then Enrico Zen placed third with an over 5-minute delay. Elettrico and Zanetti swept the field but didn't face each other in a sprint for the win, in a surprising finale. "It was a fantastic race, and we chose to conclude it in the name of friendship – Elettrico explained – and since I had not won yet in this season, it seemed the best way to finish it for us."
The women's event saw Simona Parente (Team Somec-MG.K-Vis) take the stage for her eighth seasonal success. Simona is a former pro-rider turned to absolute wonder-mom: she was back to the competitions in 2015, after giving birth to three children!
On medium route (128,8 km distance in  3h30.28) Tuscan rider Matteo Cipriani (Infinity Team), owner of a textile fabric in Prato, was the first to reach the finish line outsprinting Michele Attolini (Rana Tagliaro) while Luca Cantini (Team Morotti) rounded out the podium with a 0:42" delay. In the women's race, the winner was Alice Donadoni of Team Morotti, the same local team dominating the men's short route with a one-colourpodium and Fabio Fadini as the winner (89,4 km in 2h24'36") ahead of teammates Glauco Maggi and Fabio Cremaschi. Bianchi Factory Team's Tania Manzoni won the women's race.
At the start, Felice Gimondi dressed the beautiful 2016 celebrative jersey (a patchwork of all the jerseys conquered by the Italian Champion) surrounded by many personalities loving cycling such as Lombardy's Sports Assessor Antonio Rossi, Superbike rider Leon Haslam, skier Mattia Casse and Italian biker Chiara Teocchi. "Once again  all the participants to our event enjoyed a perfect organization. Under the guidance of Beppe Manenti, everyone rode on three amazing courses in full safety", Gimondi stated.
Fabrizio Casartelli (long route), Jacopo Padoan (medium route and overall fastest in 26.31) and Fabio Cremaschi (short route) were the winners of the "Memorial Eugenio Mercorio", having clocked the fastest times among the participants of the three respective routes on the Selvino climb.