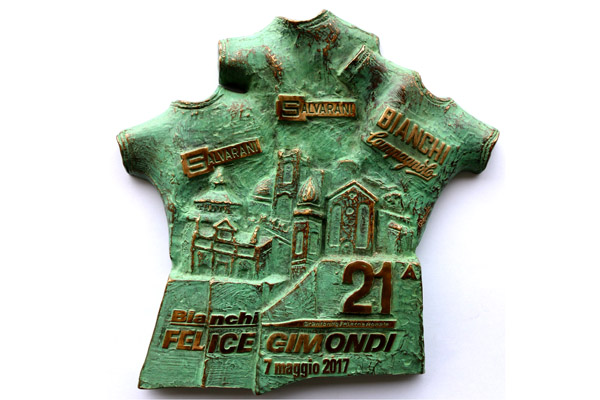 A decade of history in the 2017 GF Gimondi Bianchi's trophy
On a base displaying the city of Bergamo, M° Antonino Rando melted Gimondi's victories at the Giro d'Italia in three pink jerseys bearing the names of Salvarani and Bianchi-Campagnolo teams
The perfect summary of a story full of pink. The three unforgettable successes claimed by Felice Gimondi at the Giro d'Italia within a 10-year period were merged by the Master Antonino Rando in the 21st Granfondo Internazionale Felice Gimondi Bianchi's trophy. In the wake of a long-standing relationship with the Granfondo and the champion of Sedrina, the well-known Master-goldsmith and sculptor from Bergamo handcrafted the trophy: the special awards will be delivered to any category's winner along with the medals for all participants to the event entitled "Felice Gimondi in pink". Organized by G.M. Sport, the 2017 Granfondo Gimondi Bianchi is scheduled on May 7th in Bergamo.
To sculpt means synthetizing, taking the substance off to express a concept, shaping. At his lab in Almé (in Bergamo's nearbies), Rando melted sensitivity and delicacy, feelings and memories, history and legend, shaping in a piece of bronze – and making it – an unforgettable decade of cycling history. "The concept of the 2017 trophy comes from a conversation with the organizer Giuseppe Manenti: we shared the idea of focusing on the the three pink jerseys won by Gimondi and the name of the teams he rode with, Salvarani and Bianchi-Campagnolo. The base represents the city of Bergamo, historically and indissolubluy linked to the event" M° Rando explained.
Since long time, Rando himself is strongly connected with the event too: "I collaborated with Granfondo's OC from the second edition onwards. I love sports, cycling in particular, and I could appreciated Gimondi as a rider and as a person then: now I can boast we're close friends".
M° Rando took care of special wax technique to shape the 2017 edition trophy personally: "Bronze melting process allows to produce the copies for the event. The silver medals and those for all participants are produced with same graphic layout afterwards".
Next May 7th the participants will spread on the three demanding and evocative Granfondo's routes: the 162,1 km long route with six climbs; the 128,8 km medium route featuring four uphills; the 89,4 km short route with three climbs, including two of the most iconic ones in the Bergamo area.
How to register for 2017 Granfondo Gimondi Bianchi
It's almost two full months to the Granfondo Internazionale Felice Gimondi Bianchi. Participants can register for the 21st edition filling out the dedicated online form on the official website www.felicegimondi.it, or at the G.M. Sport Office in Via G. Da Campione, 24/c – 24124 Bergamo (tel. +39 035.211721 – fax + 39 035.4227971).