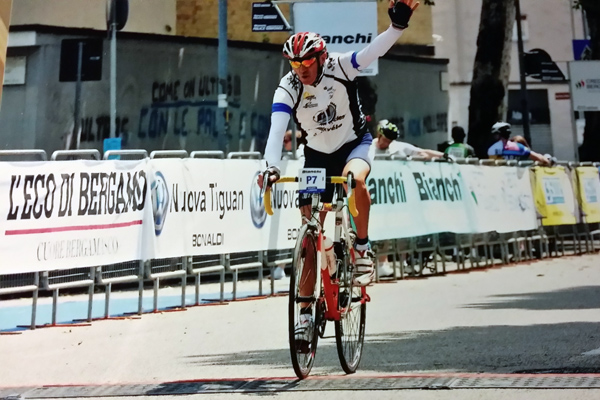 No, but their GF Gimondi Bianchi's bottomless
The first grid of the upcoming 21st edition on Sunday May 7th to host a 33-rider group of regular finishers named "Puntuali": here're their stories
The upcoming Granfondo Internazionale Felice Gimondi Bianchi, to be held in Bergamo on Sunday May 7th, will host once again a large group of so-called "Puntuali", the regular finishers of their favourite event since the very first edition enjoying the routes, the organization and the pleasure of meeting again.
G.M. Sport renews its link with 33 "Puntuali", awarding their constancy and dedication – in joining and completing the race – with the start in the first grid and an azure number preceded by a "P" capital letter.
Luciano Acerbis opens the "Puntuali" list. Besides his work in the furniture industry, the 52-year-old rider from Lombardy region rides ten granfondos per year, including the GF Gimondi Bianchi's long route: "As President of Nembro's FreeBike team, racing here means to feel at home. We are really tied to this event and about thirty of us signed in the race. I'm in love with GF Gimondi courses and landscapes, I appreciate the organizazion, I'm proud of being part of the "Puntuali": it's nice to meet again and challenge with old fellows" Acerbis says.
From A to Z, from Acerbis to Daniele Zanzottera, former workman born in 1954, aiming to clock a good display on the 128,8 medium course: "I started racing here when I was in a great shape and I used to enter five or six granfondo races per year. I fell in love with GF Gimondi Bianchi's landscapes since the first edition. In the last few years, my shape was not so good and sometimes I risked to opt for the short course and miss the view of my beloved Taleggio Valley. My aim is to cover the medium course, but I'll take the final decision during the race: also the short distance has its charme and beauty", Zanzottera's explains.
In short, don't mind if you choose the short, medium or long route: what matters is being there whether at start and finish. Those forced to leave the "Puntuali" group due to work commitments, injuries , pregnancy or anything else felt regrets even knowing how to come back at the GF Gimondi Bianchi gives a great joy likewise.
The 33 "Puntuali" are: Luciano Acerbis, Massimo Adobati, Fabio Baggi, Pietro Bergamelli, Stefano Bettoni, Paolo Calabresi, Romano Capitanio, Ivano Carsana, Fabrizio Colombo, Ruggero Duzioni, Giancarlo Gaspani, Roberto Giustacchini, Giulio Gridavilla, Lavinio Invernizzi, Simone Morandi, Gianfranco Morganti, Natale NAva, Roberto Occa, Ezio Omboni, Fabio Parati, Fabio Perego, Giancarlo Perniceni, Stefano Pesenti, Cesare Polimeno, Lino Pologna, Giuseppe Roncalli, Gianni Rosso, Romano Sala, Danio Sangalli, Simone Strada, Stefano Testa, Gianluigi Valesini and Daniele Zanzottera.
The race will start on Sunday, May 7th at 7:00 am. The participants can choose along the way among three options: short (89,4 km), medium (128,8 km) or long route (162,1 km). The Expo Area at the Lazzaretto will open on Saturday, May 6th: all participants will gather there to collect their race numbers and packages.