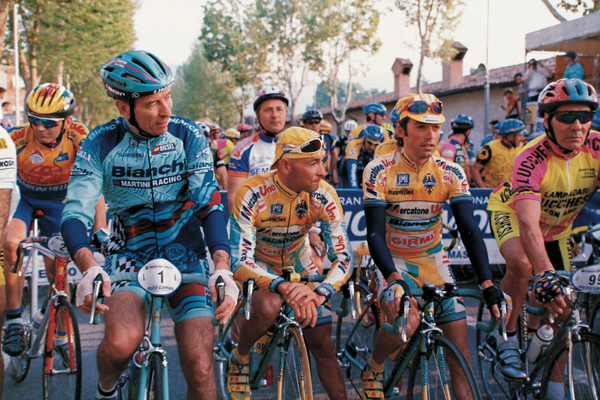 In memory of Pantani: Marco and other GF Gimondi's Friends
In the 13th anniversary of Pantani's death, Stefano Garzelli – 2000 Giro d'Italia winner after riding Granfondo's course – reminds: "I will never forget the years with Marco, the triumph with Bianchi and Gimondi's blessing".
Smiling in the front row, wearing his hat backwords and the glasses pointed at the forehead. Next to him, Felice Gimondi, as an omen for the upcoming victories. This is how the Granfondo Internazionale Felice Gimondi Bianchi – scheduled in Bergamo next May 7th, 2017 – reminds Marco Pantani, in the 13th anniversary of his death. "Il Pirata" was on the GF Gimondi Bianchi third edition' starting line on May 10th, 1998, a week before the start Giro d'Italia, at the eve of a fantastic season that saw him triumphant on the roads of the Tour de France – first Italian after Felice Gimondi, 33 years later – for a historic "double".
The organizers of the Granfondo – entitled "Felice Gimondi in pink" this year – proudly recall that Sunday of 19 years ago as a lucky charm ahead of his last successful season, followed by the ordeal leading him to oblivion and death afterwards. Meanwhile, Pantani had then come back in Bergamo in 2001, one year after his last Tour de France stage wins.
Among Marco Pantani's most famous teammates, Stefano Garzelli shared with Marco both the 1998 Giro d'Italia's thrilling adventure and the happy coincidence linked to the GF Gimondi Bianchi. Indeed, Garzelli went to discover Granfondo's course on February 26th, 2000, three months before topping the Giro d'Italia supported by an unexpected "domestique", Marco Pantani himself. "The recce on GF Gimondi's course was a talisman for me because a few months later I managed to win the Giro d'Italia on a Bianchi bike, with Marco in the spotlights as well as me. I will never forget Gimondi lifting my arm high right after I wore the pink jersey at Sestriere", Stefano Garzelli said.
Plenty of Giro d'Italia's winners came to ride on Granfondo's course as well as Pantani and Garzelli did: Eddy Merckx, Vittorio Adorni, Gianni Motta, Francesco Moser, Giuseppe Saronni, Gianni Bugno, Tony Rominger, besides Felice Gimondi himself, of course. Bergamo's event also hosted further international cycling stars: Lucien Aimar, Moreno Argentin, Luigi Arienti, Dino Zandegù, Italo Zilioli.
"Granfondo's course is really amazing, hard but not extreme. All the pro riders – not only those from Bergamo – well know how to tackle ascents like Selvino and Colle Gallo. GF Gimondi Bianchi's name itself makes the event charming: in a cycling lover's shoes, I would never miss the date. Besides his successes and fame, Gimondi remained humble, true, spontaneous: I'd like to meet more personalities like him in cycling" Garzelli commented.
How to register for 2017 Granfondo Gimondi Bianchi
The "queen" of Granfondo is waiting for its protagonists: participants can register for the Granfondo Gimondi-Bianchi's 21st edition filling out the dedicated online form on the official website www.felicegimondi.it, or at the G.M. Sport Office in Via G. Da Campione, 24/c – 24124 Bergamo (tel. +39 035.211721 – fax + 39 035.4227971).