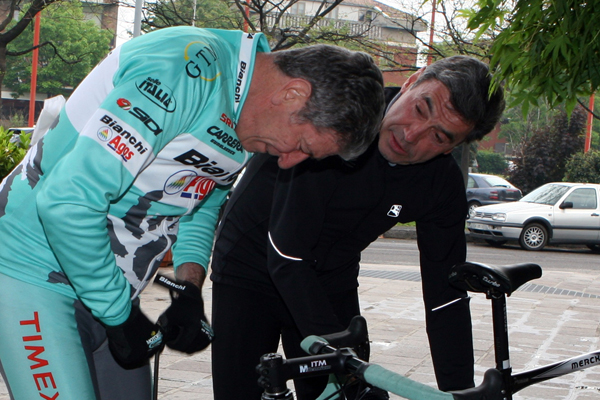 GF Gimondi as a gift for who aims to feel like Felice
The "Bring a friend" option makes the registration to the GF Gimondi-Bianchi 2017 a suitable idea for a Christmas present. "But during the race nobody gifts you anything as I've learned in my neverending duel with Eddy Merckx", Gimondi said
Christmas presents' time has come and the Granfondo Gimondi-Bianchi looks like a suitable solution. "It's one of the most beautiful and well-organized GF races around, so I think many people would like to find a free registration under the Christmas tree", Felice Gimondi assures. Among many other initiatives, the G.M.S. organizing committee launched the "Bring a friend" promotion, allowing a 10-euro discount (60 euros instead of 70) for those who will sign-up another person to the 2017 GF Gimondi-Bianchi until December 30th.
Apart from the special occasion, Gimondi has always been used to fight for getting anything in his life, not to receive gifts. "Nobody gave a special treatment to me, indeed, starting from Merckx. I wrapped by myself my small and big best wins, but I think the most important presents are those we are able to deserve in everyday life: the harmony and the peace within the family above all", the Italian champion argued.
Considering the smooth running of the registrations in view of the 21st edition, everything points to a huge cycling lovers rendez-vous on Granfondo Gimondi-Bianchi's roads in Bergamo, next May 7th, 2017. Although the time of high-level battles is over, Gimondi still appreciates the fighting spirit of "his" Granfondo. "It's a great challenge with four thousands starters from all over the world. Everybody gives his best, playing his card as much he can. It's a struggling competition: everyone aims to win and nobody backs down until someone coming up to blow all your chances, as Eddy Merckx did with me so many times"
The "Cannibal" was the one who never used to grant anything, par excellence. "He never gave up, no matter what the situation was. Once I was duelling with Michele Dancelli at a kermesse, but in the final lap Eddy decided it was time to win even there". Gimondi wrapped all his sports gifts by himself: "The most precious and unexpected was the Worlds' gold medal in Barcelona, in 1973. Even though I didn't think I could win, I made that unforgettable sprint" Gimondi concludes.
How to register for 2017 Granfondo Gimondi-Bianchi
Participants can register for the Granfondo Gimondi-Bianchi's 21st edition filling out the dedicated online form on the official website www.felicegimondi.it, or at the G.M. Sport Office in Via G. Da Campione, 24/c – 24124 Bergamo (tel. +39 035.211721 – fax + 39 035.4227971).