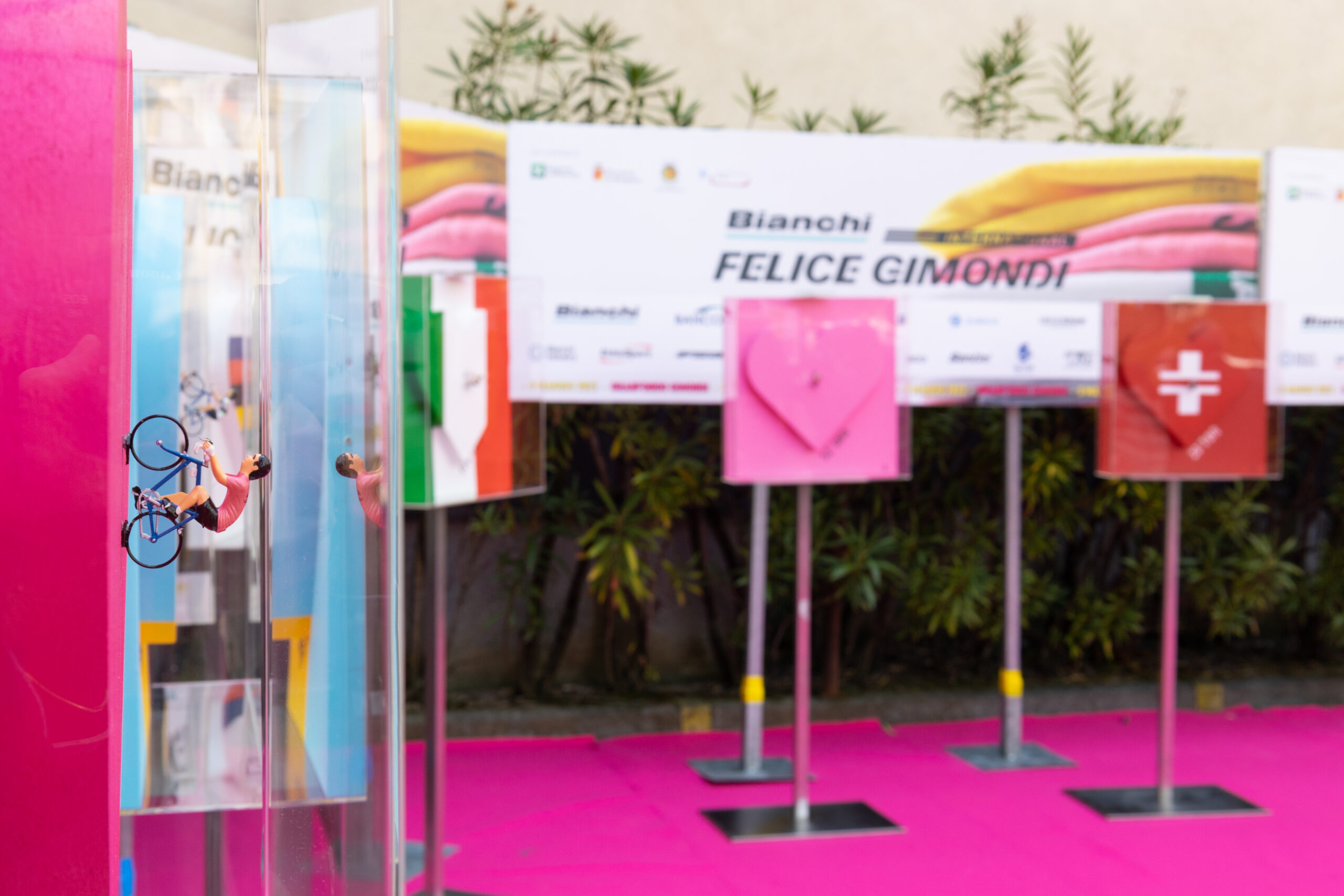 Fifteen art installations to celebrate Felice Gimondi's career
The artworks created by the Granfondo Gimondi's organizer Giuseppe Manenti aim to highlight some of the greatest victories of Felice Gimondi, in the 80th anniversary of his birth. While waiting for the event scheduled in Bergamo on Sunday, May 8th, the installations can be visited at the Banco BPM headquarter, in the heart of the city
Here we go again: the Granfondo Internazionale Felice Gimondi – Bianchi, cycling mass event scheduled in Bergamo on Sunday, May 8th, is finally ready to come back after two years off due to the pandemic. The 2022 edition, the 24th, will also be the first without the late Italian champion, who suddenly passed away on August 16th, 2019.
In the 80th anniversary of Felice Gimondi's birth, the Granfondo bearing his name will celebrate the champion from Bergamo with fifteen installations, representing some of the most remarkable victories of his career. Realized by Giuseppe Manenti, organizer of the event since the very first edition in 1996, the artworks have been unveiled at the press conference on April 6th, and are now showcased at the Banco BPM headquarters in Largo Porta Nuova, 2, in the heart of Bergamo.
The so-called "Magnificent Fifteen" range from the success at the Tour de L'Avenir in 1964 to the third triumph at the Giro d'Italia in 1976. In between, the victories at the Tour de France (1965), Paris-Roubaix (1966), twice Giro di Lombardia (1966 and 1973), three Giro d'Italia (1967, 1969 and 1976), the Vuelta a España (1968), the two Italian championships (1968 and 1972), the Trofeo Baracchi (1968, together with Jacques Anquetil), the Tour de Romandie (1969), the World Championships in Barcelona (1973) and the Milan-Sanremo (1974).
Fifteen key-moments within twenty years of career to emphasize the greatness and the versatility of Felice Gimondi, one of the seven champions in cycling history able to win the three Grand Tours and also successful in Monument Classics.
INFO AND REGISTRATIONS
The 24th edition of the Granfondo Internazionale Felice Gimondi is valid for 5 granfondo series: Alé Challenge, Brevetto dei Campionissimi, Maglia Nera, Prestigio and Zero Wind Show.
For the first time ever, the event will be open to all bikes, from vintage to electric, and it will also be possible to rent racing bikes straight at the start in Bergamo, on Sunday, May 8th.
For those arriving by plane, it is possible to reach the start of the Granfondo in less than 5 km via the cycle-pedestrian ring, which leads from Bergamo airport to the heart of the city.
As per its tradition, the routes available are the three classic ones designed by Felice Gimondi himself: the short one of 89,4 km, the medium one of 128,8 km and the long one of 162,1 km.
The last race packs are also available: both the registration to the event alone (46,00 €) and the participation including the official jersey of the 24th edition (84,00 €), the one of U.S. Sedrinese, first club of Gimondi and realized in limited edition by the sports knitwear factory Santini.