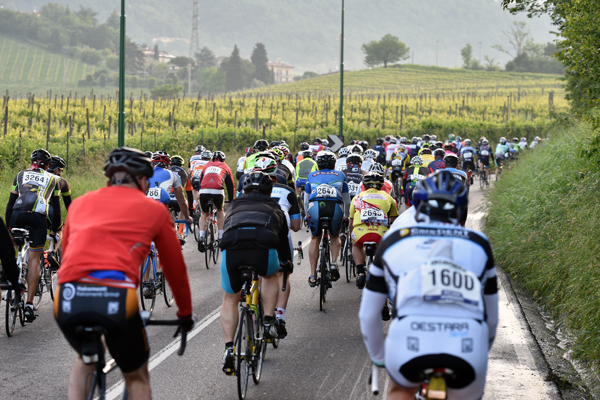 "Gimondi in pink", the doors are still open
Deadline extended for 21st edition's registration. Dedicated to Felice Gimondi's feats at the Giro d'Italia, the 2017 Granfondo will be held on May 7th
The doors to the Granfondo Internazionale Felice Gimondi Bianchi of next May 7th, 2017 are still open. The deadline for 21st editions' registrations was originally over on Friday, April 14th, but the organizers decided to extend them until race numbers are sold out. It is the final call for the late or undertain amateur riders and for those who couldn't secure their presence at the event yet, named "Felice Gimondi in pink" to honor the feats of Sedrina's champion at the Giro d'Italia.
"We still have a few places available – Giuseppe Manenti said – and we decided to extend the deadline, but we know they will run out in just a few days. Year by year, the Granfondo is drawing more and more attention on an international scale: we have received requests and sealed new partnernships from all over the world". The amateur riders will test their skills and ambitions on three different routes – short (89,4 km), medium (128,8 km) and long (162,1 km) – charted by Felice Gimondi on the hills around Bergamo. The participants will have the opportunity to choose which way to go for during the race, without having to bound to one route or another at the moment of the registration or at the start line.
As in its tradition, confirming the impressive force fielded in 2016, the G.M. Sport aims to offer its renowned organizational quality and the highest standards of safety. More than 850 people will be involved: moto relays (55), traffic police motos (10), permanent mechanical assistance points (10), neutral wheel cars (2), feed zones (5), intermediate checkpoints (6), official following cars (15), service vehicles (25), FCI race directors (4), radio stations (60), White Cross operators (75), mountain rescue units in Val Taleggio area (6), viability operators (300), including 60 from security forces.
Those who want to register, can do it by filling out the dedicated online form on the official website https://www.felicegimondi.it, or at the G.M. Sport Office in Via G. Da Campione, 24/c – 24124 Bergamo (tel. +39 035.211721 – fax + 39 035.4227971).