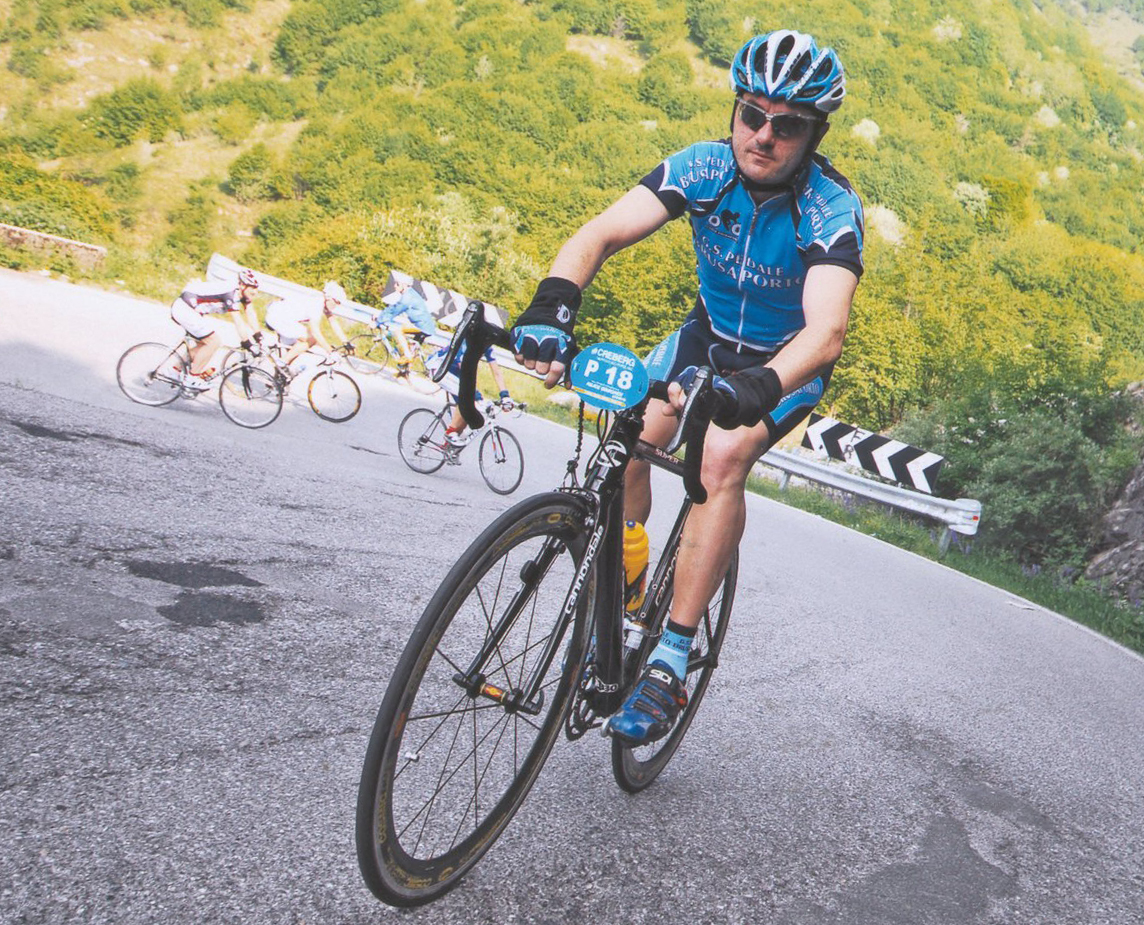 Passion and loyalty: the 32 "Puntuali" ready for the D-day
The riders who have started and finished all of the 21 previous editions look forward to the 22nd Granfondo Gimondi Bianchi, next May 6th in Bergamo
There's only one date circled in red on the calendar of 32 Italian cycling amateurs. They care about birthdays, Christmas and Valentine's Day, of course, but not as much as the cycling event they are fond of: the Granfondo Gimondi Bianchi, ready to roll on Sunday, May 6th. The cyclists who have started and finished all of the previous 21 editions, the "Puntuali", warm up for their 22nd adventure on the roads of Bergamo and its nearbies.
A challenge within the challenge, a record to keep with honour, a precious loyalty that the Granfondo's OC rewards as usual: these loyal cyclists of the Gimondi race were offered a spot of honour in the first grid. "The Gimondi is really a spring party, another spring to keep on dreaming, just like a famous Italian singer said" Roberto Giustacchini, 69, explains. Also Romano Capitanio is living a neverending green season: "The years go by, I'm almost 78 and the Gimondi tells me a lot of things: I'm deeply alive, and I can keep on going".
Each of the Puntuali tells a story, each of them has a climb, a turn, a glimpse where his memories will rehash once again. "I feel particularly proud in two points, at the juncture between Medium and Long course in Brembilla and at Costa Valle Imagna, where your drive pushes you to Bergamo's finish line" Giancarlo Perniceni tells. "Priceless" is how Simone Beniamino Strada describes the landscape that riders enjoy on the Selvino climb, whilst Cesare Polimeno can't wait to ride "at full speed the final kilometers that lead to the finish".
In love with the Selvino as well, 67-year-old Giuseppe Roncalli emphatically reminds the 2011 edition "with an epic atmosphere, rain and cold wind: to complete the race was a great satisfaction". "Every edition brings along special feelings, but I can't forget the 2005 race when, in the Selvino's downhill, I was in the wake of someone named Eddy Merckx: I could closely appreciate his ride… what a ride!" Stefano Testa, 48, adds.
Riding the Granfondo often means giving up on something else: a family wedding (as Roberto Gabriele Occa experienced), Pope John Paul II's visit in Como in May, 1996 (Giulio Gridavilla), a prize trip (Romano Capitanio) or simply the hours of sleep in the morning, needed for training (Stefano Testa). The reward is worth the trouble: cycling icon Felice Gimondi is waiting for all the Granfondo's friends – whether they are Puntuali or not. "He's a great champion who put a sheen on Bergamo city" Simone Morandi, another of the 32 Puntuali, says. "Felice Gimondi is part of my childhood: when I was a kid, I rode my mother's bike to emulate cycling races, dreaming of being Gimondi" adds Fabio Parati.
The 32 "Puntuali" are: Luciano Acerbis, Massimo Adobati, Fabio Baggi, Pietro Bergamelli, Stefano Bettoni, Paolo Calabresi, Romano Capitanio, Ivano Carsana, Fabrizio Colombo, Ruggero Duzioni, Giancarlo Gaspani, Roberto Giustacchini, Giulio Gridavilla, Lavinio Invernizzi, Simone Morandi, Gianfranco Morganti, Natale Nava, Roberto G. Occa, Ezio Omboni, Fabio Parati, Fabio Perego, Giancarlo Perniceni, Stefano Pesenti, Cesare Polimeno, Lino Pologna, Giuseppe Roncalli, Romano Sala, Danio Sangalli, Simone Strada, Stefano Testa, Gianluigi Valesini and Daniele Zanzottera.
The GF Gimondi Bianchi "Remembering the Vuelta" will be held on the three classic routes – short (89,4 km), medium (128,8 km) and long (162,1 km) – personally drafted by Felice Gimondi and deeply appreciated by many participants from all over the World.