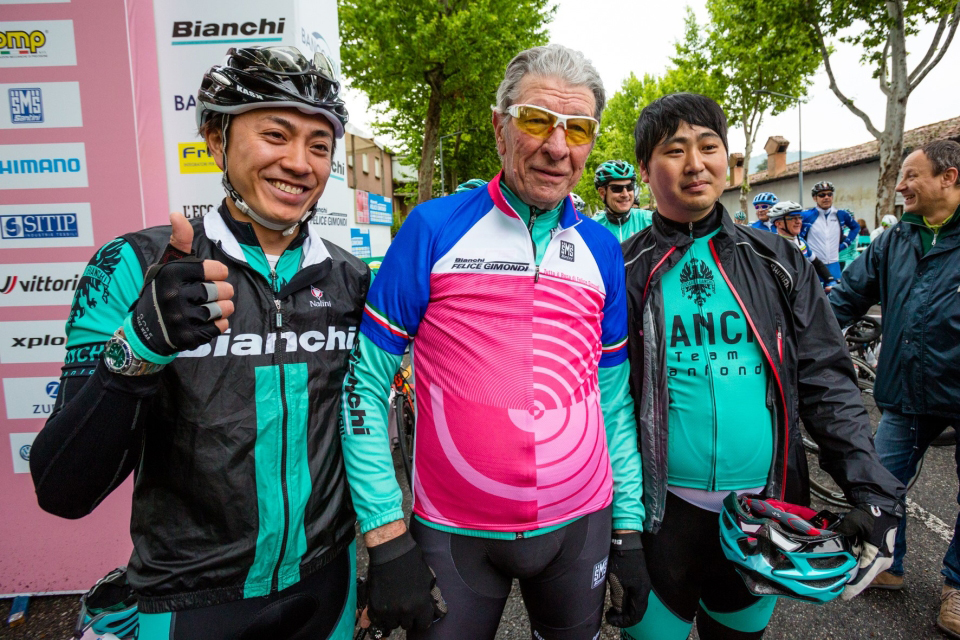 Organization, course, safety: the "Gimondi" gets the full of likes
Dozens of participants, both "Punctual" riders and new entries, endorsed Bergamo's race on the social networks: "An A+ Granfondo". Looking forward to the 2018 edition of May 6th…
Clock's ticking, the 22nd Granfondo Felice Gimondi Bianchi is approaching – only 92 days to Sunday, May 6th – and the OC is working hard to give the participants the renowned organizational standard and push it even further. The G.M. Sport's well-known care of details – from the quality of suppliers to safety – enticed a big number amateurs to come back again on Bergamo's roads, either the Punctuals (the cyclists who haven't missed any edition) and those who discovered the GF Felice Gimondi only in 2017.
One of the latters is Gianluca Iorio, who expressed his appreciation on the social network: "It was my first time at Gimondi. Congratulation for the high-level organization and the beatiful long course: I am going to come back", he wrote on Facebook. His words' echo in Davide Sinelli's post: "In my first experience I found a perfect organization that made us live amazing feelings. It's nice to ride in safety and enjoy the landscape. See you next year". Several women riders also enjoyed the "pink-coloured" Granfondo, dedicated to Felice Gimondi's feats on Giro d'Italia roads: "My first Granfondo was a triumph, not because of my result – I don't have a competitive approach – but for the flawless organization: it's been a wonderful day, without a hitch. The other ladies and I really had lots of fun", Laura Fornari explained.
The participants positively commented also about safety: "Congratulations for the care of the details and the top security granted to the cyclists. In my opinion this is one of the best granfondos", Sergio Belluomo wrote. Danilo Gaffuri added his thanks to law enforcement and volunteers. Eros Martelli highlighted the "motorcycle security in the last ten kilometers", Elia Zwarte Piet "the streets locked up until the end of the event". "In this race you can ride without feeling anxious, thanks to the fin de course vehicle", Gabriele Pin argues, while Vincenzo Santelia summarizes: "The traffic management was perfect: I give you an A+".
The GF Gimondi Bianchi "Remembering the Vuelta" will be held on the three classic routes – short (89,4 km), medium (128,8 km) and long (162,1 km) – personally drafted by Felice Gimondi and deeply appreciated by many participants from all over the World.
How to register for the 2017 Granfondo Gimondi-Bianchi
Until March 31, 2018 the entry fee is 35,00 €. Participants can register for the 22nd edition filling in the dedicated online form on the official website www.felicegimondi.it, or at the G.M. Sport Office in Via G. Da Campione, 24/c – 24124 Bergamo (tel. +39 035.211721 – fax + 39 035.4227971).