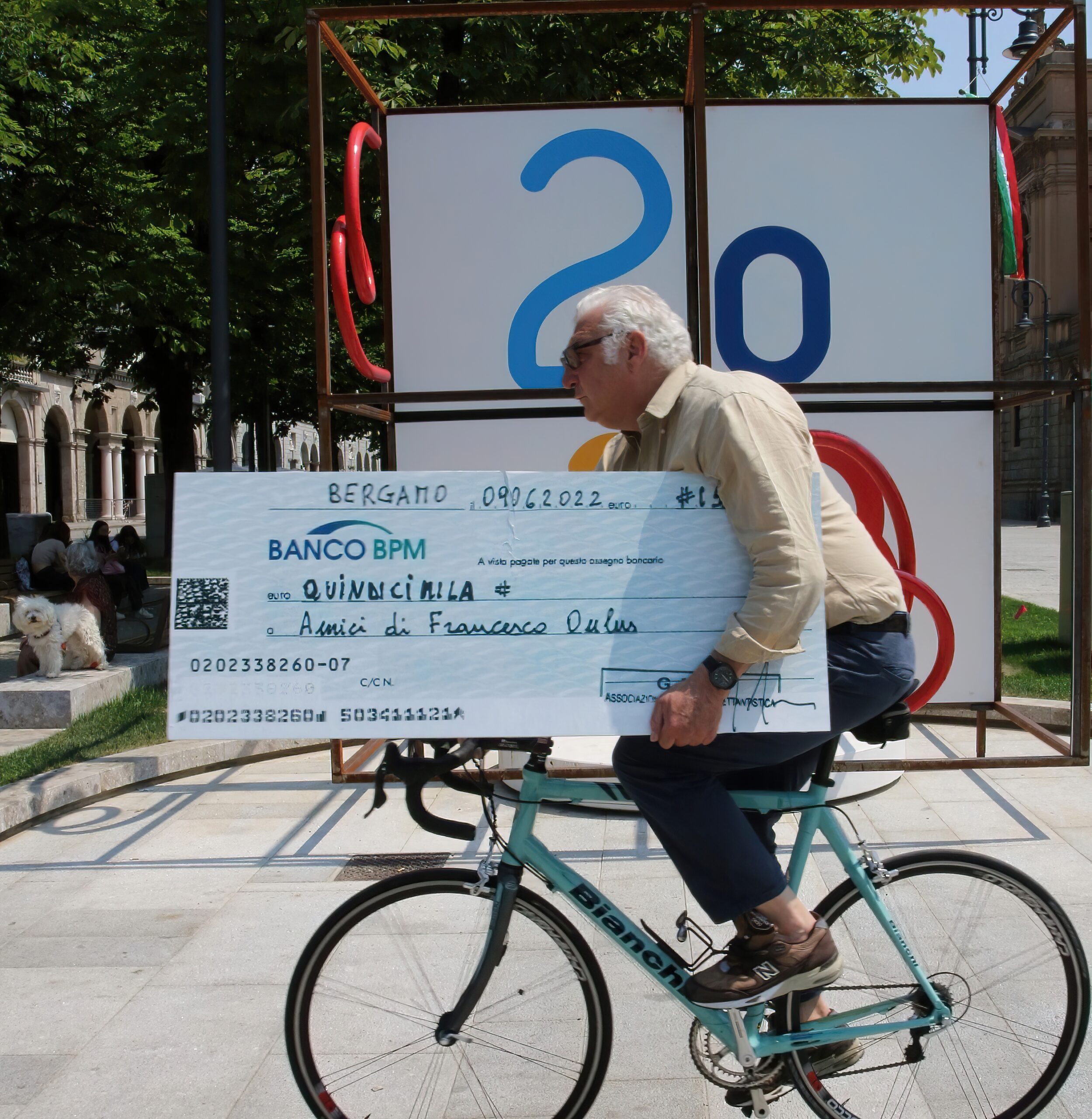 The great heart of Granfondo Gimondi raises over €20.000 for charity
Following the 24th edition of the Italian event, held in Bergamo on May 8th, 2022, G.M.S. organizers donated a hefty sum for several charitable projects and associations
From good to great. The successful 24th edition of the Granfondo Internazionale Felice Gimondi – Bianchi, held in Bergamo on May 8th, 2022, keeps improving its overall outcome. Besides the positive feedback on the road, witnessed by the sold out of the 3500 race numbers, the organization of G.M.S. achieved to raise over €20.000 for different charity projects.
The total amount donated by organizer Giuseppe Manenti and its G.M.S. is of €20.258, split on three different projects. €15.000 to the Verona "Amici di Francesco" NPO, an association active on an international level to help creating a better future for kids. This amount comes from the selling of the "Magnificent Fifteen", an artwork made by Manenti himself and consisting of fifteen panels representing the most iconic wins of Felice Gimondi's great career.
€3.100 went to "Amici del Cuore", a NPO from Torre Boldone (Bergamo, Italy), long-lasting partner of the Granfondo Gimondi, taking care of the "Pasta Party" after the event every year since 1999. Over the years, the donations made by the Granfondo bearing the name of the great Bergamo champion to this association sum up for over €100.000.
 Last but not least, thirteen charity registrations have been sold for a total of €2.158. Charity registrations are another tradition of the Bergamo Granfondo: on sale for a higher price, besides guaranteeing the start in the first grid and the 24th official edition's jersey recalling the first cycling club of Felice Gimondi, U.S. Sedrinese, they support the Associazione Disabili Bergamaschi, helping people with disabilities in Bergamo.