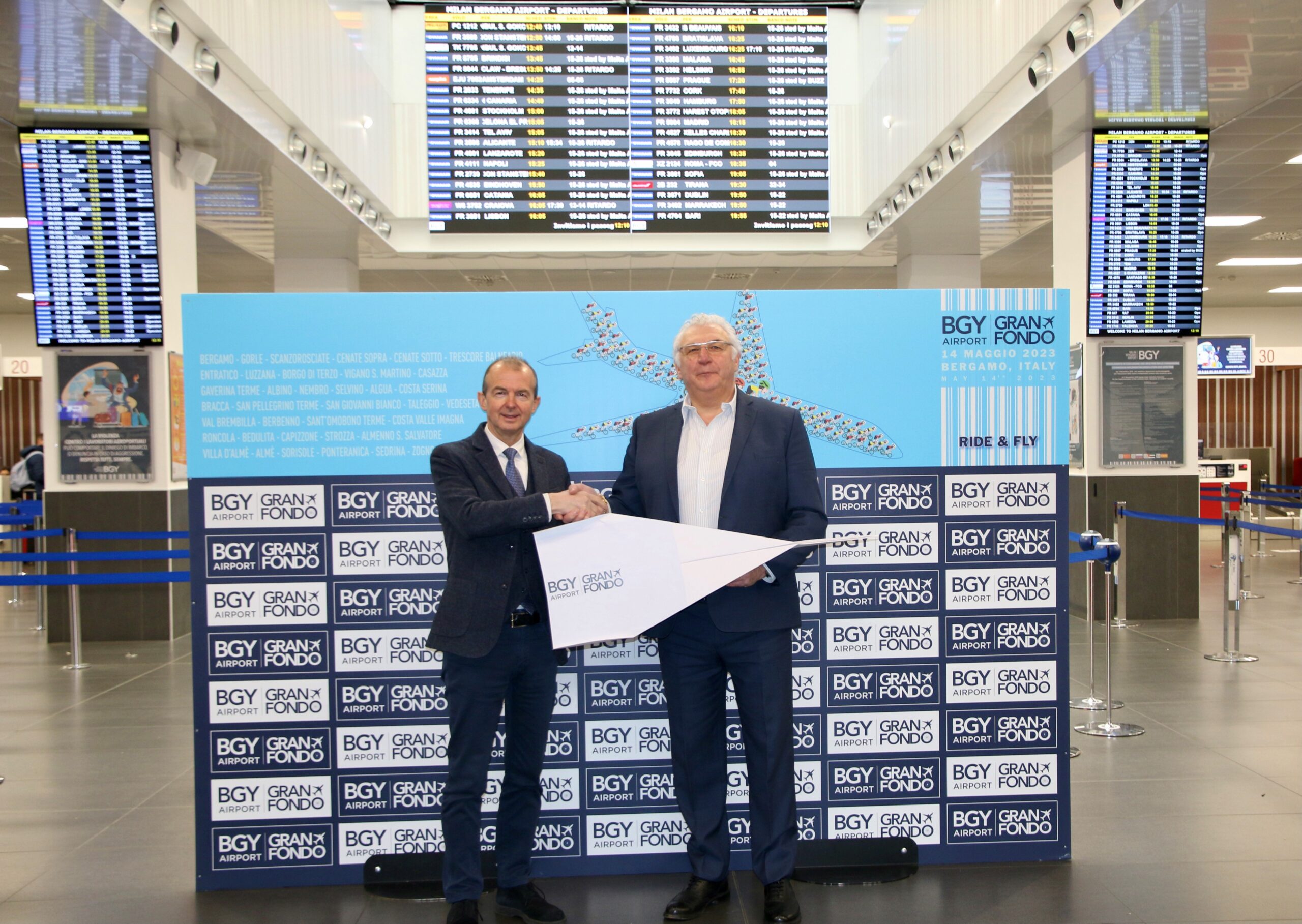 The new BGY Airport Granfondo is ready to take-off
The new Italian event, scheduled in Bergamo on May 14, 2023, aims at further enhancing the city's bike-friendly and sustainable mobility traits while highlighting its airport as the key of an ever-growing successful tourist destination
Following the 25-year Granfondo Felice Gimondi intense story, the organizers of G.M.S. have chosen to turn the page and start with a brand-new mass event.
Having overcome the long stop imposed by Covid, the event had restarted last May featuring its usual technical and participation success. However, after the passing of the great Champion from Bergamo in the summer of 2019, things weren't as before and the original spirit that had always characterized the event was no longer the same.
Moreover, the organizers' goal was to better approach the youngest generations, with a more up-to-date communication style following their habits and lifestyles, as well as those of a dynamic and evolving city like Bergamo.
Given that, the organization decided to end that chapter and immediately start a new one, taking advantage by the huge experience earned in mass cycling events in the last quarter of century. Here comes the BGY Airport Granfondo, whose first edition will be held in Bergamo on Sunday, May 14, 2023. SACBO, the managing company of Milan Bergamo Airport, will be alongside the organization in this new challenge.
Milan Bergamo Airport (whose international tag is "BGY") is rated the third Italian terminal with the highest number of passengers after Rome Fiumicino and Milan Malpensa, connecting Bergamo with plenty of European destinations. Furthermore, its long long-haul flights offer keeps increasing, both with direct flights and transit mode through intercontinental hubs.
In the development plan that has made it a multimodal infrastructure, set to be connected with Milan central station and high-speed trains in 2026, Milan Bergamo Airport is looking at the growth of sustainable mobility too by giving the opportunity to go from the air terminal to the city centre in just 4 km, all of them on bike path, as well as experience several bike services, such as the first bicycle-assistance, storage and rental point. A special commitment that has earned the airport the European title of "Bike Friendly Airport."
"This is indeed the key aspect of the new project," explained Giuseppe Manenti, head of G.M.S., "the airport has been fundamental for the growth of tourism in Bergamo, and the bicycle will be increasingly crucial in allowing visitors to discover and appreciate the city and its beautiful province. The BGY Airport Granfondo wants to be a major actor in highlighting Bergamo, its artistic and historical beauty and its dedication to eco-sustainable mobility."
Registrations will open on Thursday, December 15.