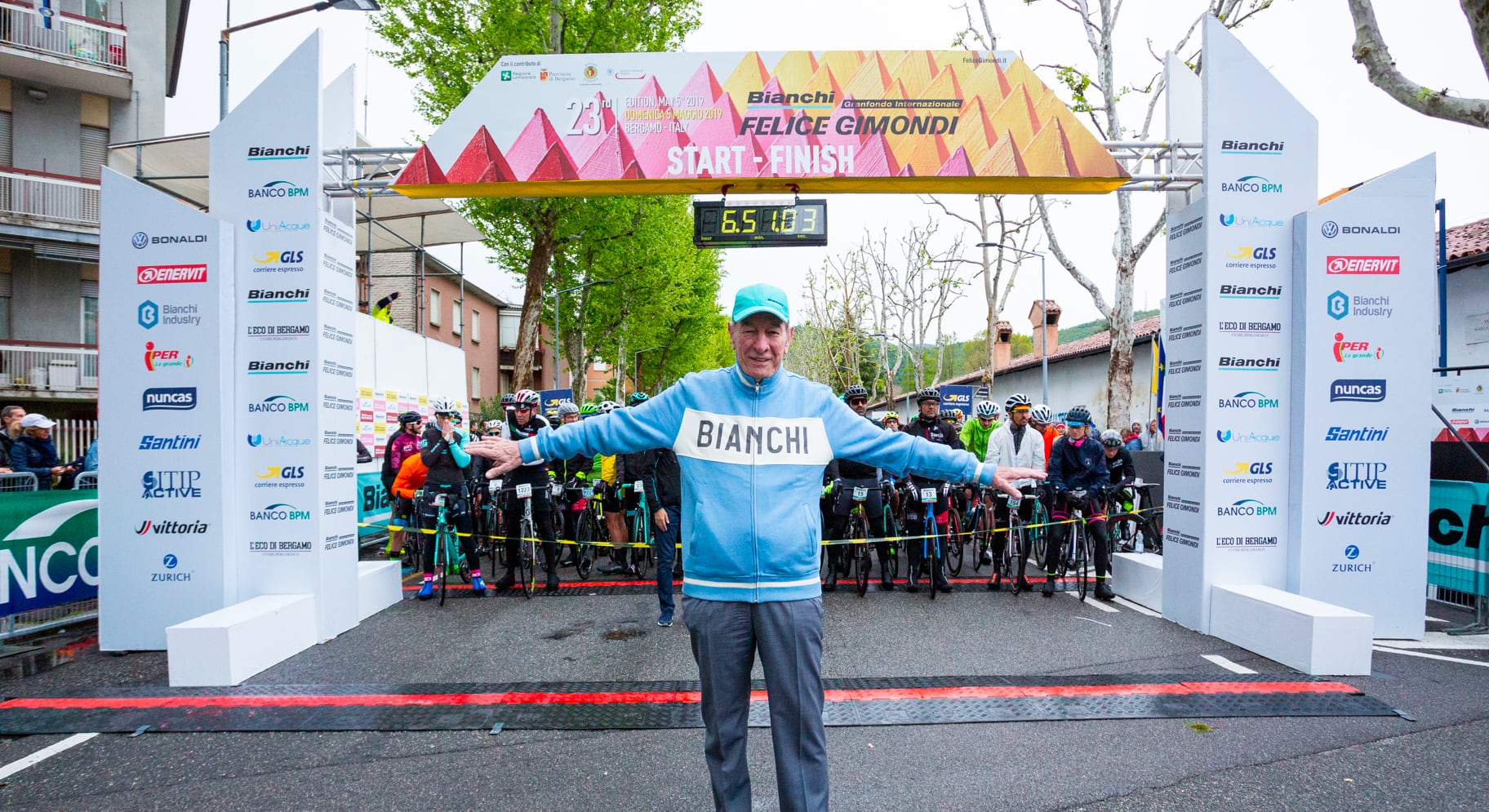 Registrations for 2020 GF Gimondi Bianchi to open on Monday 11th November
Coming Monday November 11th, from 9 am CET the Granfondo Internazionale Felice Gimondi – Bianchi open the registrations to the 24th edition to be held on May 10th, 2020. All cycling lovers can book a spot in the grids since now and have the opportunity to retrace Felice's home roads
Remember Felice with a smile, inspired but not overwhelmed by nostalgia, this is the mission embraced by the event's organizers, who have chosen to pay tribute to the great champions by collecting all the shirts of his career in a new surprising and eye-catching graphic design as the landmark of the "new" GF Gimondi. The event, to be held on Sunday May 10th, 2020 in Bergamo, is opening registrations from Monday November 11th, 9:00 am CET onwards.
All GF Gimondi lovers will have the chance to ride on Felice's home roads and pay homage to the Italian champion. The first grid (from 1st to 600th) will be reserved to the top 100 riders of the last year edition, the first 100, 50 and 25 of the "long", "medium" and "short" routes in 2018, the 31 cyclists who didn't miss any edition, the 200 women expected in 2020 , the 20 cyclists registered with the "Solidarity Registration" formula and the 74 organization's guest. Registrations will be available through the official website www.felicegimondi.it, by filling the online form, as well as at the G.M.S. main office in Via G. Da Campione, 24/c – 24124 Bergamo (tel. +39 035.211721).
Increased by only 6 euros from 2014, the registration fee, from November 11th to March 31st, still remains 36 euros, including front and rear race number, magazine/schedule, information material, subscriptions, timing service, TDS timing chip, memory medal (after the finish), certificate of participation, pasta party/pasta party plus voucher, medical and mechanical assistance (spare parts excluded), bike storage after the finish, food services during and after the race, showers, bike parking, transmission of results by SMS and e-mail. The entry fee will be 51 euros from April 1st to 18th 2020, registrations' deadline.
Even this year it will be possible to buy the 24th "Felice Gimondi" official jersey at only 38 euros. Behind this shirt there's a Made in Italy fabric by Santini sports knitwear factory, which has designed the exclusive design limited edition "US Sedrinese " for the special day on May 10th. The black and white colors clearly remind to the jersey of Felice's early years.
The 2019 GF Gimondi Bianchi will be held on the three classic routes – short (89,4 km), medium (128,8 km) and long (162,1 km) – personally drafted by Felice Gimondi, one of the event's strong points deeply appreciated by many participants from all over the World.
More info are available on the website www.felicegimondi.it/en, enriched and complete in each of its 48 sections. The GM Sport scheduled a series of special initiatives aiming to highlight the Granfondo Felice Gimondi Bianchi, well-known for its such high-class organizational standard to draw in the latest edition riders from 33 Countries and 5 Continents, besides prestigious international partners.
For further information: GM Sport info@felicegimondi.it
Bergamo (Italy), November 9th, 2019