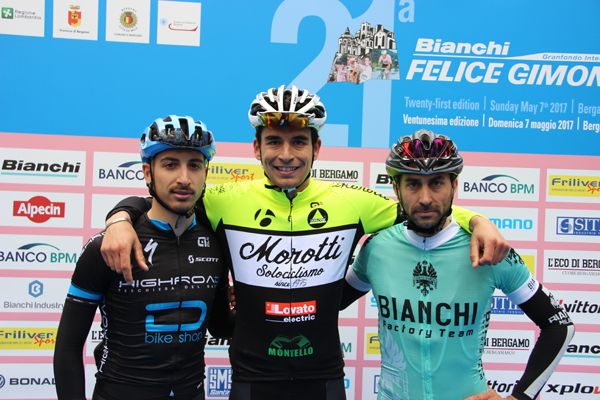 Luca Cantini wins the "medium" event on the home roads
Another Team Morotti rider topping the podium of 128,8-km race ahead of Attolini and Trapella. Manuela Sonzogni was the best woman
The brave "granfondisti" kept around 3h30' to complete the medium course over 128,8 km, with decent weather unless some raindrops and a little cold. "I will start off slowly but I expect a pack of stampeding buffalo behind me", Felice Gimondi had predicted at the start in Bergamo, and it did. The 4.105 riders competing at 21st Granfondo Gimondi Bianchi tackled the way in full swing and the race came out very sparkling.
Another rider of Team Morotti, the same squad dominating the short course with Glauco Maggi and Alice Donadoni, clinched the "medium" race. Luca Cantini, who preceded Michele Attolini (High Road Team) and David Trapella (Team Ferrara Bike), knows these roads like the back of his hands. "I live in Selvino and I ride here every day after hours", explained the winner, employed as salesman for a bike industry.
Manuela Sonzogni (Team Isolmant) was the best woman, after she had already won on long course in 2015 and on medium in 2014.