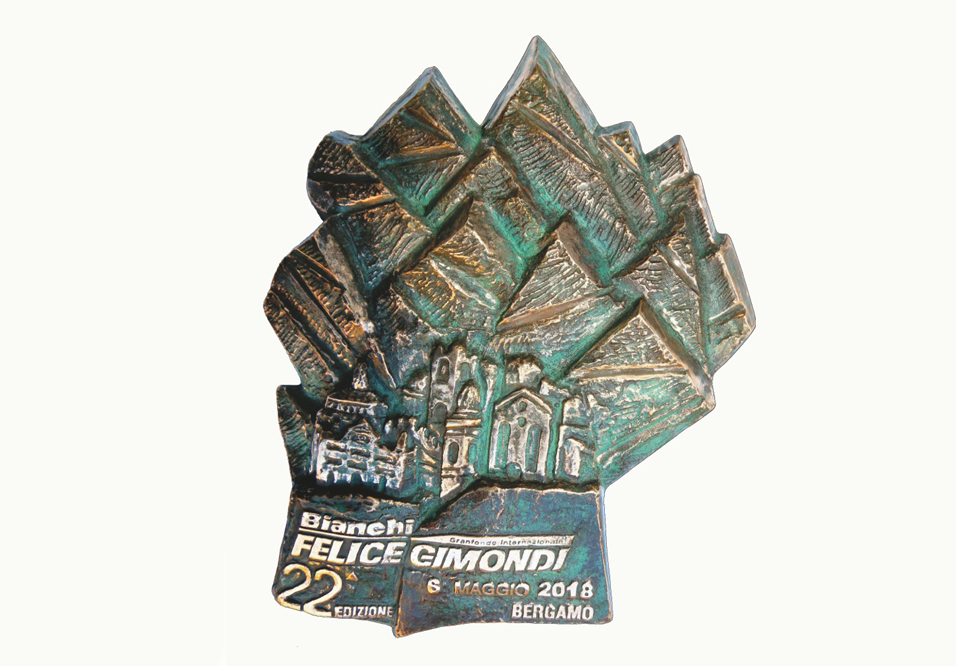 The peaks of the Vuelta on 2018 Granfondo's trophy
On the background of the city of Bergamo, M° Antonino Rando shaped the rough slopes of the Spanish uphills and descents, the scenery of Gimondi's feats in 1968 to which GF Gimondi Bianchi is dedicated in 2018
The rough profile of Vuelta a Espana's mountains, with their hard ascents and insidious descents where Felice Gimondi built his overall success in 1968. The panorama of Bergamo's buildings and monuments. The logo of Granfondo Internazionale Felice Gimondi Bianchi, the mention of the 22nd edition and the date or the upcoming fixture on the Bergamo roads: May 6th, 2018. All of these elements were merged by artist Antonino Rando in 2018 Granfondo's trophy. In the wake of a long collaboration, the well-known Master-goldsmith and sculptor from Bergamo once again put his art to the service of the event, handcrafting the special awards for each category's winner along with the medals for all participants.
"I aimed to highlight the toughness of the mountains, Vuelta's distinguishing feature, celebrating its uphills and the descents. The race roads are represented by the glossy lines standing out on the sharp peaks of the upper part" M° Rando explains. The lower part of the trophy recalls the tradition "with the presence of Bergamo and its monuments and the claim of the edition this artwork is destined to". Once again, at his workshop in Almé (in Bergamo's nearbies) the M° Rando made a synthesis process taking the substance off to express a concept.
As usual, the concept of the trophy was studied with Giuseppe Manenti, organizer of the event. Rando's relation with the Granfondo began in the second edition, because of his passion for cycling and Felice Gimondi: over the years, the champion from Sedrina became one of Rando's closest friends. M° Rando mastered his special wax technique to personally shape the 2018 edition trophy. The copies for the event are realized with bronze melting process in the same mold of the trophy. The silver medals, as well as those for the finishers, are produced with same graphic layout afterwards.
Next May 6th the participants will ride on the three demanding and evocative Granfondo's routes: the 162,1 km long route with six climbs; the 128,8 km medium route featuring four uphills; the 89,4 km short route with three climbs.
How to register for the 2018 Granfondo Gimondi-Bianchi
You have only five days left to register at a preferential rate: until March 31, 2018, the entry fee is only 35 euros. Participants can register for the 22nd edition filling out the dedicated online form on the official website www.felicegimondi.it, or at the G.M. Sport Office in Via G. Da Campione, 24/c – 24124 Bergamo (tel. +39 035.211721 – fax + 39 035.4227971).