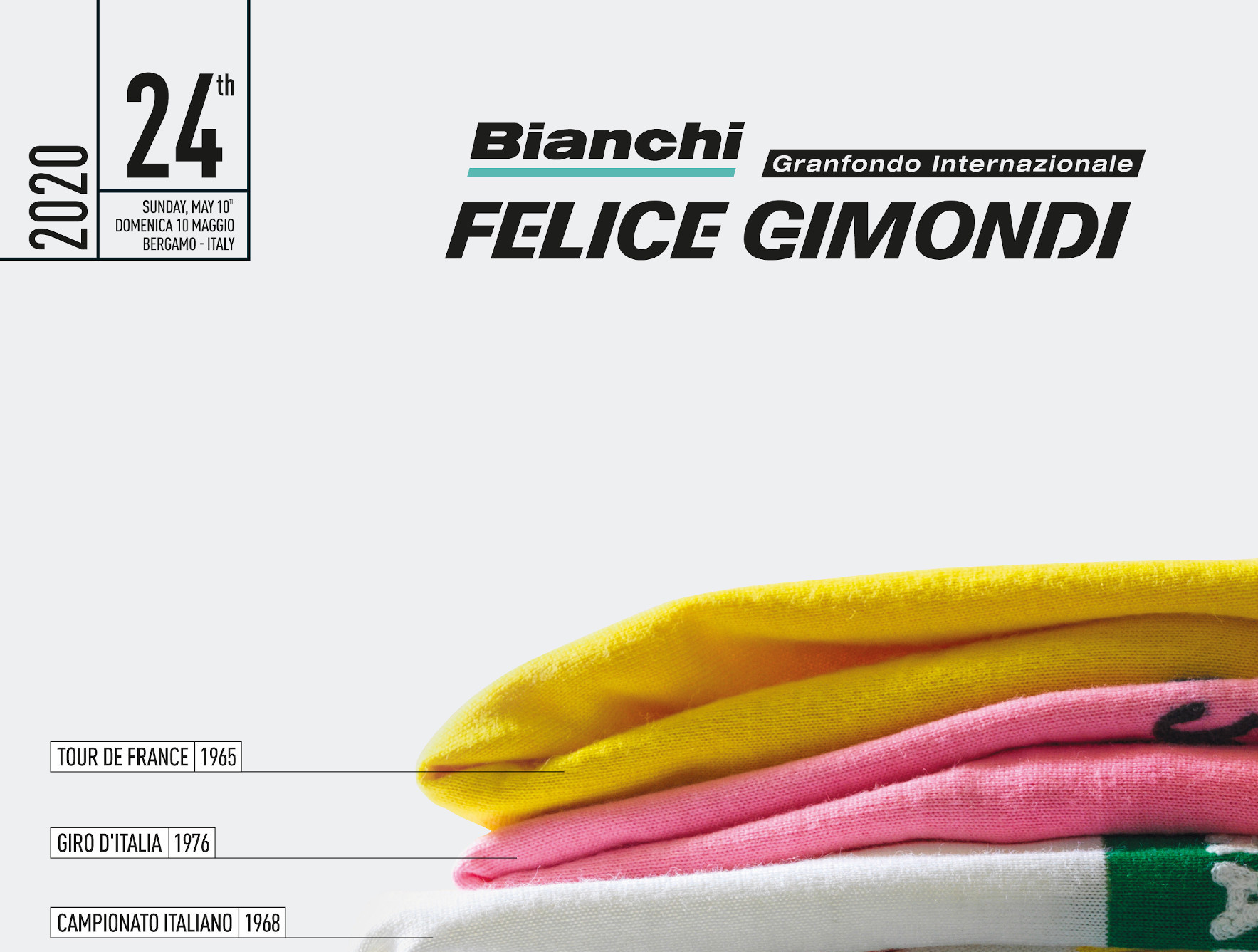 Felice's shirts the landmark of the new GF Gimondi Bianchi
The graphic design of the 24th edition, to be held on May 10, 2020 has been unvealed to pay tribute to the late Champion but going on with great motivations following his example. Registrations open in one-week time
It's time to start again, to look forward despite a nostalgia that can be hard to explain. The 24th edition of Granfondo Felice Gimondi Bianchi is fixed on Sunday May 10th, 2020 definitely aiming to be special anyhow. It will be the very first time without Felice on the start line and that's enough.
"We spent a summer of great sorrow – the event's organizer Giuseppe Manenti explained -. As we have always considered Gimondi as a source of inspiration rather than a brand, we'll continue to follow his example by keeping his memory alive. Feeling proud to have been close to him and spreading the joy of riding a bike in his name, we owe all of this to him".
The new GF Gimondi Bianchi graphic design looks different and surprising. A stack of carefully folded shirts symbolizes the detachment and the will to preserve the memory at one time. Those shirts resume a twenty-year career from the very beginning – the Sedrinese kit – to the glory.
"The picture tells about our feelings, let's us start out from here with no grief, keeping high his name and example to build up such historical event", Manenti argued.
From November 11th onwards the registrations will be open. "The last edition was very hard because of bad weather, maybe a warning sign of what would have happened three months later. Now we feel positive and fully committed to achieve a great event".
The 2020 GF Gimondi Bianchi will showcase many new features provided that the three classic routes – short (89,4 km), medium (128,8 km) and long (162,1 km) – personally drafted by Felice Gimondi, will remain unchanged, the way Felice would have liked.
For further information: GM Sport, info@felicegimondi.it, ph. +39 035.211721.
Bergamo (Italy), November 5th 2019