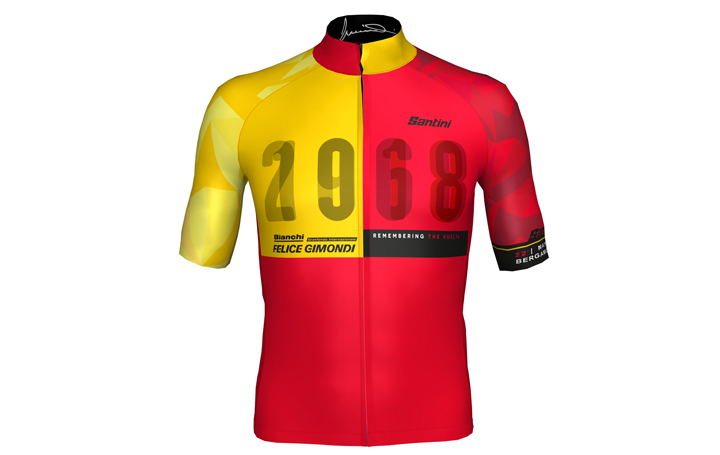 Spain's national colors on GF Gimondi official jersey
The 2018 outfit recalls the yellow and the red paints of the Iberian flag on the 50th anniversary of Gimondi's triumph at Vuelta Espana the 22nd GF Gimondi-Bianchi is dedicated to
1968, 2018: it is now fifty years since Felice Gimondi won the Vuelta a Espana, but the memories are still intense, as the colors of the 22nd Granfondo Internazionale Felice Gimondi – "Remembering the Vuelta" official jersey, the essential clothing to tackle the event scheduled on May 6th, 2018.
Created by the Organising Committee, and produced by Santini Maglificio Sportivo – Made in Italy, the new jersey tells about the 25-year-old successful experience of Felice Gimondi at the Vuelta, the second cyclist ever to complete the "triple crown", after the overall win at the Tour de France (1965) and the Giro d'Italia (1967). Only five riders have done the same in the following decades, up to now.
Entirely red in the lower part, the jersey features Spain's national colors – yellow and red – in the front side marked by the merged "1968" and "2018" lettering at the chest height. The GF Bianchi Gimondi's logo stands on the right, the slogan "Remembering the Vuelta" on the left on a black background, both below the overlaid dates. Santini's logo is imprinted both higher over the 1968/2018 dates and on the right hips, where 22nd GF Gimondi Bianchi's headline also appears. The 1968's Vuelta a Espana's logo pops up on the shoulders, while the 50th anniversary's base years (1968 and 2018) on the middle rear pocket, at back height.
The 22nd GF Felice Gimondi's official jersey features short sleeves and short zip; it is made in Energy Microsense fabric, light and breathable, with triple rear pocket and exclusive design. Available in six sizes (S, M, L, XL, XXL and the newly XXXL), the jersey is available both for 2018 event's participants and non-competitive cycling fans and can be ordered on GF Felice Gimondi Bianchi's website. The price remained unchanged (33 euros), whilst the combo "jersey + race registration" price is 68 euros. The Christmas time falls as an occasion to wrap the perfect gift for friends and relatives aiming to wear a piece of cycling history.
How to purchase the 2018 official jersey
To purchase only the jersey, send an email to info@felicegimondi.it ( 33,00 euros)
For registration + Jersey please click here to proceed (68,00 euros)
To select the correct size, visit www.santinisms.it
How to register for the 2017 Granfondo Gimondi-Bianchi
Participants can register for the 22nd edition filling out the dedicated online form on the official website www.felicegimondi.it, or at the G.M. Sport Office in Via G. Da Campione, 24/c – 24124 Bergamo (tel. +39 035.211721 – fax + 39 035.4227971).