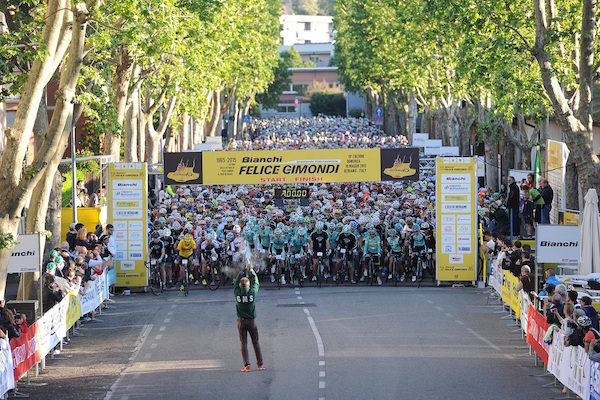 A Polish king for the queen of Granfondo
In Bergamo, Hubert Jacek Krys and Manuela Sonzogni absolute winners on Granfondo Gimondi Bianchi's long route: sun, great competition and spectacular participation (+60%)
It was an Italy-based Pole, Hubert Jacek Krys (La Bagarre Ciclistica Lucchese) to be crowned king 2015 Granfondo Gimondi-Bianchi, rode through Bergamo and its province today, Sunday May 10th. On the long route of 162,1 km, raced in in 4h42'26", the Pole opened big gaps over all of his opponents: German Bernd Hornetz  (Team Beraldo Greenpaper) came in second, 3'48" adrift, while Igor Zanetti (Cannondale-Gobbi) rounded out the podium with a 5.17 gap. First among women was Manuela Sonzogni (Team Isolmant), who proved cleary the strongest with a final time of 5h04'05": her first rival on the finishing line was fellow Italian Astrid Schartmueller (Pedale Feltrino), 7'49" behind, with  Marina Ilmer (Somec MG K Vis) in third.
 
+60% REGISTERED RIDERS, GIMONDI… FELICE: "IT LOOKED LIKE A CLASSIC"
For the 3740 registered riders (a shiny +60% compared to last year, when the event was back in the granfondo calendar after a one-year stop), the "Gimondi" provided all the best it had to give: a spectacular and very demanding race in perfect weather condition, with a warm sun enlightening the ride through its whole length. It was the ideal scenario also for Felice Gimondi, who celebrated today 50 years of his 1965 Tour de France. "It has been an amazing day. I enjoyed it in full riding for about 45 km, taking another chance to state our event's organizational quality: it was really perfect, it looked like a professional Classic race," Felice told.
 
GIORGIO VIOTTO, A BUTCHER FROM TREVISO, FIRST ON THE SHORT ROUTE
The day had started well before dawn for many, "I have cooked pasta at 4 o'clock in the morning," told the still-sleepy wife of a participant told. But the Gimondi riders do not need any wake-up call: for a passion, it is very well worth it. "After the race, I take a shower and start my turn as cashier at a supermarket," said Serena Gazzini (Team Carraro), winner among women on the short route (female participation's rate at the race grew to over 6% in 2015). Or the sacrifices a worker makes to find some time for training, after coming out of the factory.  That's part of what makes cycling so special.
One of those stories is the one of Giorgio Viotto, from Treviso, winner on the short route as member of the Bianchi Factory Team. Viotto edged a four-man sprint, but after the euphoria he will go back to his work as a butcher: "That's a good advantage for an amateur rider like me: I eat very good steaks, and here are the results. But Bianchi's support was crucial for this success too."
 
BAD LUCK FOR ERICA: CRASHES WHILE RAISING ARMS IN CELEBRATION
An IT technician from Bergamo, Antonio Camozzi (Team Isolmant), landed the spoils among men on the medium course. Camozzi cliched a double after edging the bunch on the same distance in 2014. Instead, Erica Magnaldi (Team De Rosa Santini) could not enjoy the taste of victory on the medium route for long: while raising her arms in celebration, she lost control of her bike, hitting the barriers hard. Luckily, it all ended with just a bruised thigh.
The best time on the Selvino climb, 26'59", was clocked by Fabrizio Casartelli (Equipe Exploit), winner of the Eugenio Mercorio memorial prize. The Granfondo unfolded regularly, carefully controlled by the race services, in spite of a few scares: a crash on the first descent (elbow fracture), an offroad excursion on the Valle Imagna descent, with a rider ending in a cliff (thoracic trauma) and an old peasant hit by a rider while crossing the street, who suffered a concussion. All of them have been helped and supported in professional and timely manner: at the "Gimondi", that's not a surprise.
 
RESULTS 19th GRAN FONDO INTERNAZIONALE FELICE GIMONDI BIANCHI
Short Route (km 89,4): 1. Giorgio Viotto (TV Bike Team) 2h27'25"; 2. Fabio Cremaschi (Team Morotti); 3. Omar Manzoni (Team Isolmant). Women:  1. Serena Gazzini (Carraro Team) 2h34'48".
Midium Route (km 128): 1.  Antonio Camozzi (Team Isolmant) 3h33'13"; 2. Marco Canella (Team De Rosa Santini); 3. Raffaele Basile (Cicloteam San Ginese). Women:  1. Erica Magnaldi (Team De Rosa Santini) 3h45'21"
Long Route (km 162,1): 1.  Hubert Jacek Krys (La Bagarre Ciclistica Lucchese) 4h42'26; 2.  Bernd Hornetz  (Team Beraldo Greenpaper) a 3'48; 3. Igor Zanetti (Cannondale-Gobbi) a  5'17". Women:  1. Manuela Sonzogni  (Team Isolmant) 5h04'05".
STANDINGS:
SHORT ROUTE (89,4 km):
MEN STANDING
WOMEN STANDING
MIDIUM ROUTE (128 km):
MEN STANDING 
WOMEN STANDING
LONG ROUTE (162,1 km):
MEN STANDING
WOMEN STANDING
EUGENIO MERCORIO MEMORIAL PRIZE:
CHRONO SHORT ROUTE
CHRONO MIDIUM ROUTE
CHRONO LONG ROUTE
CHRONO F1959