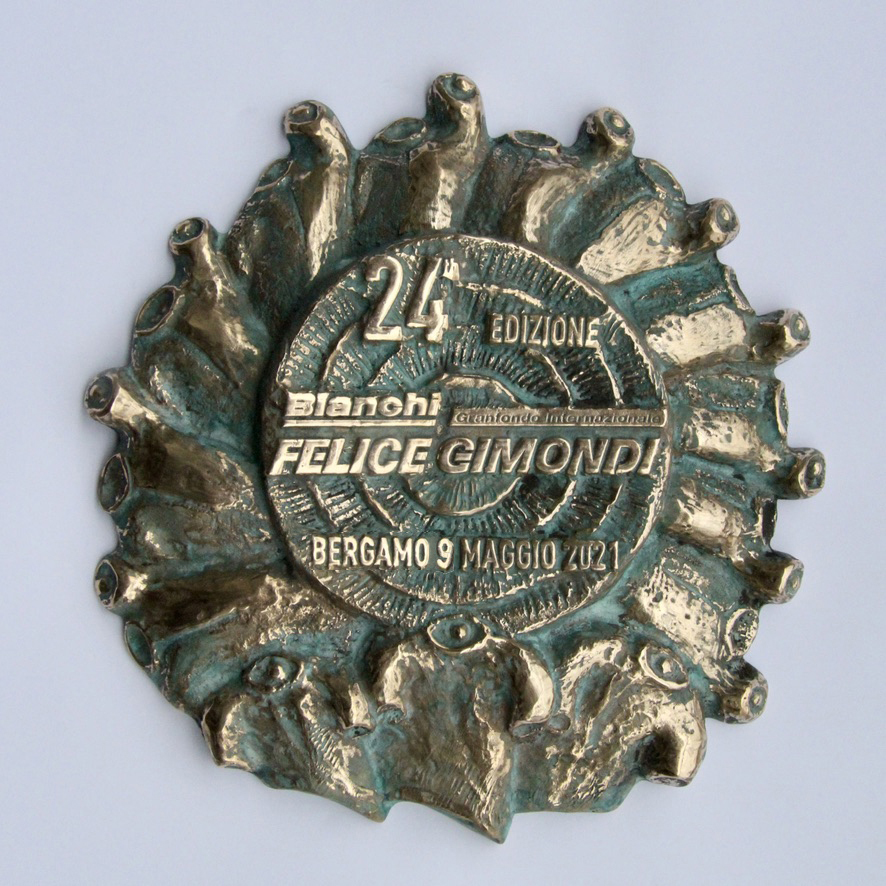 Gimondi's sunlight illuminates 2021 trophy
A sun stands out in the middle of M° Rando artwork summing up Felice Gimondi's sporting life through the jerseys of the Bergamo's Champion most prominent races and successes
Scheduled on May 9th 2021, the 24th Granfondo Internazionale Felice Gimondi – Bianchi marks a moment full of significance with the the return of the Bergamo's event after the year off while being the very first time without the Champion whose name it bears.
According to an established tradition, the trophy of GF Gimondi-Bianchi 2021 created by well-known Antonino Rando, Master-goldsmith and sculptor from Bergamo, will celebrate the memory of Felice Gimondi. In the midst of the bronze artwork, a sun symbolizes the light of Gimondi's life until he became an Italian pride. At the bottom, the three outfits worn by the Sedrina Champion from 1965 to 1979 stand out aside eleven shirts with raised arms represented to celebrate the main achievements of his career.
Since the Granfondo's early edition, the trophy is made at Rando's lab in Almé (Bergamo), using a unique wax technique. The trophy concept has been studied with the event's organizer Giuseppe Manenti: the iconography bronze measures 25x25cm, weighing over 4.5 kg. "Compared to past editions, we tried to represent not just a moment in Gimondi's life but to sum up his entire career. The sun in the middle symbolizes how Felice Gimondi's lifetime was full of light for himself and for those around him", Master Antonino Rando explains.
The silver medals and those for finisher have been produced with the same graphic layout. Over the years, the medal has become an iconic souvenir of the event, a symbol of passion for cycling and for Felice Gimondi, rewarding the participants' effort to reach a personal goal.
The 2021 GF Gimondi – Bianchi will be held on the three classic routes – short (89,4 km), medium (128,8 km) and long (162,1 km) – personally drafted by Felice Gimondi.
HOW TO REGISTER FOR 2021 GRANFONDO GIMONDI-BIANCHI
Registrations are allowed from January 18th to April 17th filling the online form available on GF's official website, www.felicegimondi.it, or first-hand at GMS headquarter in Bergamo, Via G. Da Campione, 24/c – 24124 (phone +39 035.211721).
For further information: GMS Asd, info@felicegimondi.it, ph. +39 035.211721.