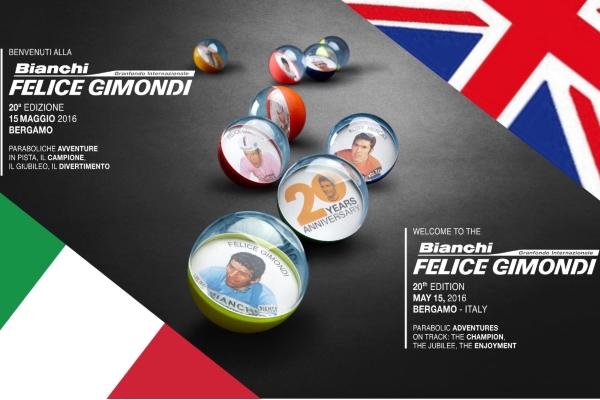 Granfondo Gimondi Bianchi launching on the UK marketplace
The organizers and Italy Bike Tour signed an agreement to promote the event in the United Kingdom, actually the bike's most successful country
Over the years, Granfondo Felice Gimondi Bianchi established a perfect feeling with foreigner participants. Indeed the event, whose 20th "jubilee" edition to be held on 15th May 2016, gained an impressive popularity in the United Kingdom, where the bike achieved a resounding success – either in terms of sport practice and business turnover. As Granfondo Gimondi's organizers have always been focused on increasing the number of riders from abroad, the event's organizer Giuseppe Manenti signed an agreement with Italy Bike Tours, a company based in Bergamo nearby, organizing trips for cyclists.
Italy Bike Tours, new UK Special Partner of the event, was founded by Clive Marshall and Matthew Miller with the aim to build unique cycling experiences no matter what, from a relaxing ride up to a complete top-level training camp. Riders themselves from many years, Marshall and Miller created a complete network of hotels, restaurants and technical hot-spots much appreciated by those clients looking for high-quality trails far from mass destinations.
Italy Bike Tours evaluated the Granfondo Gimondi Bianchi as one of the most spectacular and best organized ones in Italy, whose excellence represents a  must for people coming from UK. Italy Bike Tours built special 2-day and 4-day packages for the event, both giving cyclists the opportunity to enjoy hospitality, landscapes and have fun worry-free. A dedicated staff will take care of them from the arrival at Orio al Serio airport. The package includes the enrollment to Granfondo Gimondi Bianchi on May 15th, but even technical assistance for the bike, special experiences around local food and wines and further short but exciting rides drafted by Clive Marshall himself, thanks to his knowledge of Bergamo province's roads. Marshall choose to live here with his family since many years, driven by his passion for bike and belief that ride on bike in Italy is one of the greatest pleasures of life.
Registrations for the 20th edtion of the Granfondo Gimondi Bianchi can be made online on the official website of the event www.felicegimondi.it by filling the online form, or directly at the headquarters of the organizing company in Bergamo, Via G. Da Campione, 24/c ( Tel. +39 035.211721 – fax + 39 035.4227971 –info@felicegimondi.it