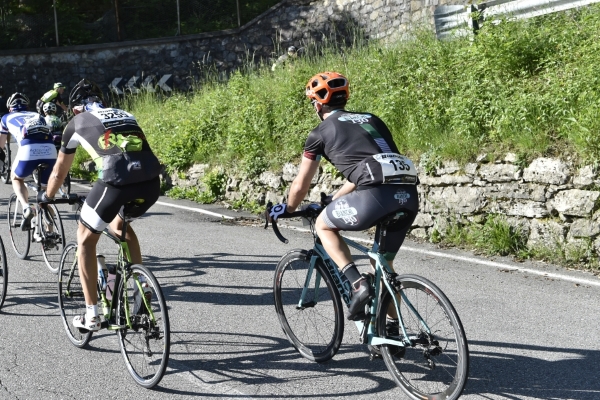 Granfondo Gimondi Bianchi joins the Grand Prix Maglia Nera circuit
The 20th edition of Felice Gimondi's race will be part of the 6-stage Grand Prix dedicated to the historical Giro d'Italia symbol
The day of Granfondo Internazionale Felice Gimondi – Bianchi's 20th birthday is getting closer. In exactly twenty years, the race organized by GM Sport has established itself as a reference for leisure riders from all over the World, as demonstrated by the 3.700 participants from 28 Countries of the 2015 edition.
In Bergamo, the legend of Felice Gimondi will be celebrated on the three classic routes, short (89,4 km), medium (128,8 km) and long (162,1 km), and the roads that this year will welcome also the participants of an important national granfondo challenge.
In 2016, GF Felice Gimondi – Bianchi has become part of the Maglia Nera Circuit, a 6-race grand prix entitled to Giovanni Nani Pinarello, the historical "maglia nera" of the 34th Giro d'Italia in 1951. In addition to Granfondo Gimondi Bianchi, the Grand Prix Maglia Nera calendar also features GF Fi'zi:k, GF del Centenario, Sportful Dolomiti Race, La Pina and the 6XAndrea team time trial.
All the amateur riders from 18 to 70 years old, regularly registered to FCI or other competent organizations, can take part in the challenge. Registration for the circuit are open until Thursday, March 31st. The circuit's classifications are reserved to the challenge's participants, divided into short and long routes' finishers. The four best placements on the five Granfondo will be taken into consideration, in addition to the final team time trial. To be classified, it's mandatory to score points at GF Gimondi-Bianchi, Sportful and La Pina.
A dedicated Maglia Nera Gazebo will be on the spot at every granfondo of the circuit for the collection of the technical pack for the Grand Prix participants. The awarding ceremonies will be held in Jesolo at the end of the 6XAndrea race on September 18th, with award for each category (8 for long routes, 9 for short routes e 3 for women). In addition, also the five teams with the most kilometres ridden by the challenge participants, and the "maglia nera" (last-place finishers) of each category, will be recognized.
It's another good reason to join the "Gimondi" field: the 20th edition will be officially presented on Thursday April 14th in Bergamo (Credito Bergamasco, Sala Traini, at 11).