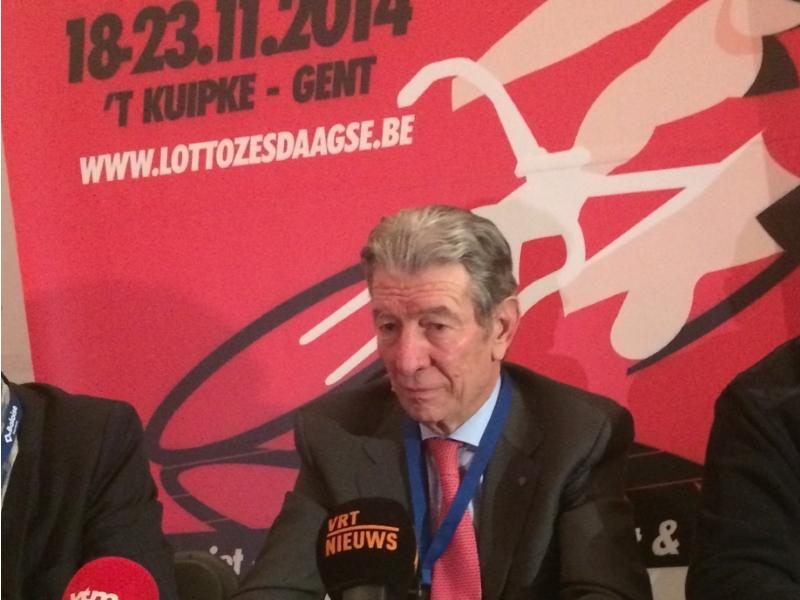 Granfondo Felice Gimondi-Bianchi, crowd bath at Velofollies this weekend
Expected as one of the most crowded and international editions ever, the 19th Gran Fondo Felice Gimondi-Bianchi aims to make more and more proselytes throughout Europe in the upcoming weekend. The Italian organization and Felice Gimondi personally will attend Velofollies 2015, the huge bike show for cyclists and cycling enthusiasts to be held in Belgium, at Kortrjik Xpo, from Friday to Sunday (16-18 January).
With around 16 weeks to go, the organizers of the popular cycling all event taking place in Bergamo (Italy) on May 10th, 2015 are glad to announce the 19th edition will celebrate 50 years of Felice Gimondi's victory at Tour de France, and will be in Belgium to present the Granfondo and various related touristic opportunities to the visitors to spectators and promote the event among Northern-Europe cycling fans.
Named after former Italian champion Felice Gimondi, the event (whose registrations are open on www.felicegimondi.it official website) will honor the historical anniversary of the yellow jersey worn in Paris at 1965 Tour de France, and hopes to gather a massive number of amateur riders from all over Europe: Gimondi personally charted three amazing routes (89,4 km, 128,8 km, 162,1 km) suitable for every cyclist, of any level or age.
A customized 15-sqm dedicated area will be arranged for all the three days of Velofollies to promote the event at booth 513B, where to get any information about the race, the location, the accommodation and all facilities available in Bergamo, in addition to the opportunity for all the visitors to admire a beautiful Bianchi Infinito CV (the Granfondo's official bike).
On Sunday, Felice Gimondi will be at Velofollies giving a public interview at 3:00 pm, but cycling fans can also meet him at the booth or during the autographs session at 2:30 pm on the same day. "Felice is still very popular all over Europe – Granfondo's organizer Giuseppe Manenti explained -. He was also special guest at Six Days of Ghent last November and 7.000 delighted spectators welcomed him as an outstanding star. We're confident to attract many people in Kortrjik and make them discover our event's technical value and the beauty of our locations".
Velofollies consists of 6 halls, 42.000-sqm exhibition area, 276 exhibitors with over 33.000 visitors in 2014. Opening time is from 14:00 to 21:00 on Friday, from 10:00 to 18:00 in the weekend.