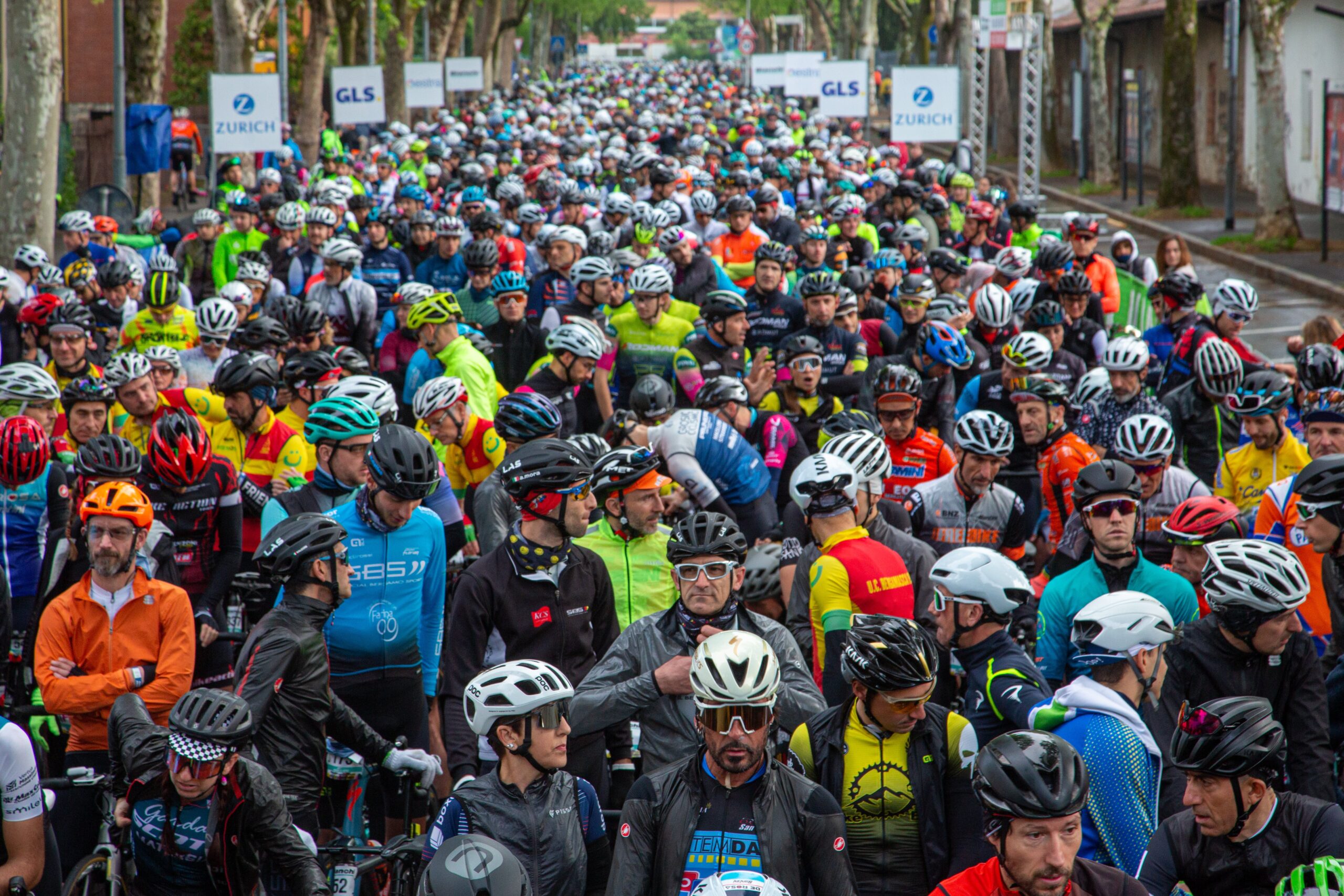 Bergamo's perfect day rekindles love for the GF Gimondi
The large mass of cyclists attending the 24th edition of Granfondo Internazionale Felice Gimondi – Bianchi in Bergamo just left behind them an impressive event jumping back to the spotlights after two years off with 3500 registered riders, all heeding Felice's name the first time without him in person. "I experienced a beautiful but even wistful day – the daughter Norma Gimondi explained – we felt his absence at the very beginning and along the course then. Someone called him out loud, his memory is still alive, definitely".
The whole event confirmed the GF Gimondi prestige and quality standard, the amazing courses (in spite of long route's last-minute modification), the participants' pleasure to ride in safety throughout beautiful landscapes with no rain. "Everything went smoothly – the organizer Beppe Manenti said – we restarted in full swing and feel extremely happy for that".
The event also upgraded with two new-entries in the list of honour, as the overall winners Manuel Senni (ASD Borrello) and Annalisa Prato (Team Mentecorpo) are both renowned as riders.
Manuel Senni has been a pro rider until 2021 upon retiring for health problems, then he has started to compete in mass events from last January. Behind him, French Loic Ruffaut (the only foreign rider stepping the podium, actually cycling trainer in Switzerland), Andrea Gallo rounded out the top-3. "I knew these routes very well, as I spent some time at Team Colpack when I was amateur – Senni explained -. My career as a pro' has gone, no way to continue after four times under surgery at the aorta. Now cyclism remains the favourite hobby to share wth my brother, I always love to win".
Annalisa Prato was already known as serial-winner in other Italian mass events such as Nove Colli and Maratona dles Dolomites, but on the medium course only. This time Annalisa preferred to switch on the long and it worked. The winner gained a 11-minute margin over runner-up Martina Trevisiol, followed by third-placed Maria Elena Palmisano. "I really enjoyed my first time at GF Gimondi", Annalisa argued.
Unprecedented winners came up from the medium route (128,8 km) as well. Rossano Mauti (AP 07Team Ciclirossi) outsprinted 2019 winner Federico Brevi and Francesco Avanzo. Alessia Bortoli (Capitani Minuterie) topped the women's podium aside Valeria Curnis and Chiara Quartesan.
Home riders made clean sweep on the short route. Bergamo's Team Morotti scored a one-two with Fabio Fadini and Marco Maggi while Sicilian Francesco Pizzo took the third place to highlight Obiettivo3, the Italian paralympic icon Alex Zanardi's project encouraging disable athletes to take on sports. Laura Isonni (AS Boario) won the women's race ahead of Milena Felici (golf sport entrepreuner in Rome) and Alessia Ravasi.
Never to miss at GF Gimondi, the Eugenio Mercorio Memorial saw Manuel Senni e Annalisa Prato clocking the best timing in the uphill ITT from Nembro to Selvino, the last picture of the perfect day.