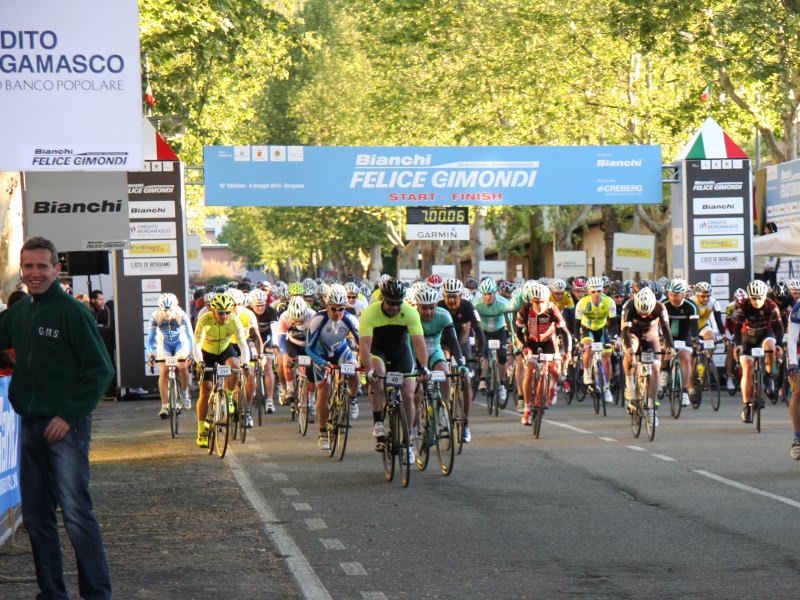 GF Gimondi-Bianchi joins Coppa Piemonte, Expo 2015 circuits
The 19th edition of the popular Italian Granfondo will be part of two important circuits, after scoring solid numbers in the first days of registrations
Enthusiasm and passion surrounding Granfondo Internazionale Felice Gimondi-Bianchi seems to keep growing year after year. As soon as G.M. Sport organizers, led by Giuseppe Manenti, announced he registations' opening, a number of amateur riders from Italy and abroad rush to confirm their will to line-up in Bergamo on May 10th, 2015, and take part to the 19th edition of the event, celebrating 50 years of Felice Gimondi's Tour de France triumph in 1965.
In addition, the organizing committee chose to adhere to two important Granfondo circuits – "Circuito Ciclistico Granfondo Coppa Piemonte" and "Circuito Granfondo per Expo 2015", both featuring the most notable amateur events in the respective areas.
Granfondo Felice Gimondi-Bianchi – that will propose in 2015 the three classic routes, "short", "medium" and "long" (89,4 km, 128,8 km, 162,1 km) – will be the third round of both Coppa Piemonte and Circuito Expo.
"We are glad to be part of these circuits, as they represent an opportunity to grow in every respect – Giuseppe Manenti stated –, being very confident in our organization. Generally speaking, the 2015 edition is starting off on the right foot."
Registrations for the 19th Granfondo Felice Gimondi – Bianchi can be made online on the official website, www.felicegimondi.com, recently restyled with new graphic layouts and contents.