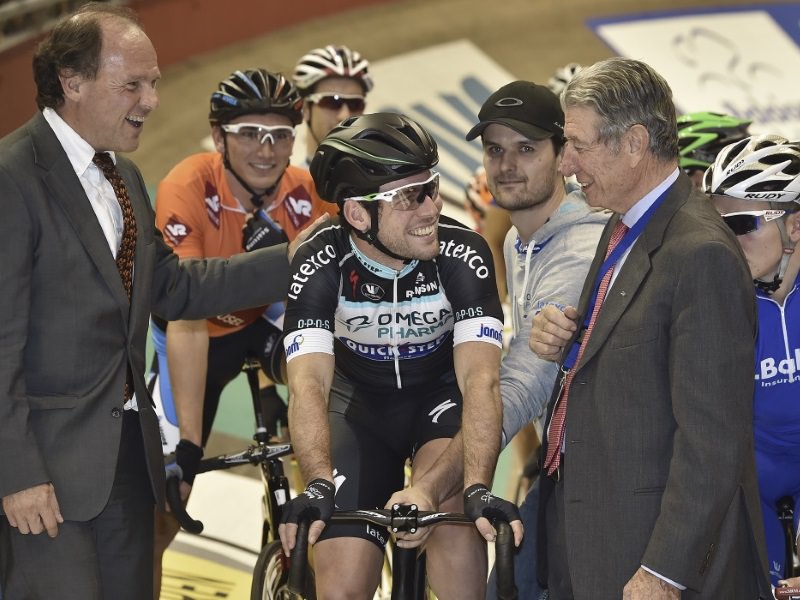 Belgium fans cheer GF Gimondi-Bianchi
Enthusiastic welcome to Felice Gimondi, guest of honour at Six Days of Ghent opening night
Ghent tributed a standing ovation to Felice Gimondi, introduced by the speaker as a "living legend of cyclisme", during the opening night at Six Days of Ghent, surrounded by 7.000 spectators on Tuesday, November 18th. Next to celebrate the 50 years of his Tour de France yellow jersey, Gimondi was impressed and touched by the warm welcome of the Flemish fans. "I am looking forward to meet many of you next May 10th in Bergamo – Gimondi announced – to ride the Granfondo Felice Gimondi-Bianchi. With a one-hour flight you can get there, Italy and Belgium have never been so near to each other".
As guest of honor at the opening night of the Six Days of Ghent, the Italian former champion's intent was to promote his race, that will celebrate in 2015 years of his victory at 1965 Tour de France, and therefore looking to gather a massive number of amateur riders from all over Europe. Felice enjoyed in Ghent the crowd's enthusiasm, sharing it with his former colleague Patrick Sercu, being greeted by Mark Cavendish and reuniting with long-time past teammate Rik Van Linden.
Interviewed by many TV channels and media representatives, Gimondi received the official welcome and a special souvenir by Six days' director Rob Discart. Felice also expressed his sincere congratulations to Flemish Minister of Sports, Philippe Muyters. "Here in Belgium, cycling sport is an all different story", Gimondi stated.
Accompanied by Granfondo organizer Giuseppe Manenti, Felice was delighted by the evening in Ghent: "What a crowded and enthusiastic arena! We managed to seal a very fruitful synergy to boost our event's promotion."
In the wake of this and more initiatives to come, Granfondo Felice Gimondi-Bianchi aims to involve and motivate a significant number of riders from all over Europe to take the start in Bergamo next May. Meantime, online registrations will be open from tomorrow, November 20th, on freshly-restyled official website www.felicegimondi.com.