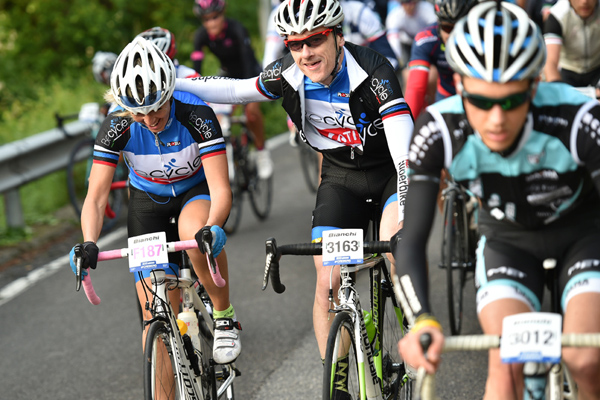 GF Gimondi Bianchi joins the Shimano Challenge Circuit
The 21st edition of the granfondo, to be held in Bergamo next May 7th, is part of the 6-stage tour dedicated to amateur cycling teams. The GF Felice Gimondi Bianchi is also a Grand Prix Maglia Nera's round
Granfondo Internazionale Felice Gimondi Bianchi will be part of the six-round Shimano Challenge, Italy's newborn GF circuit that rewards the passion of national amateur teams. The participants of the 21st edition, taking place on next May 7th in Bergamo on the three classic routes – short (89,4 km), medium (128,8 km) and long (162,1 km) – will also secure points for the challenge. Shimano will award the top ten teams after the final event.
The Shimano Challenge consists of six rounds: GF Laigueglia, Granfondo Firenze, GF Gimondi Bianchi, GF Colnago in Desenzano del Garda, GF Alé la Merckx in Verona and GF Pinarello in Treviso. On every event's eve, tha Japanese company's mechanics will on hand in the Shimano area a free check-up of the Shimano-equipped bikes. In addition, just before the start, the Shimano booth will offer mechanical assistance to all the participants suffering last-minute mechanicals.
As in 2016, the GF Felice Gimondi Bianchi will also be part of the Maglia Nera Circuit, a 6-race grand prix entitled to Giovanni Nani Pinarello, the historical "maglia nera" of the 34th Giro d'Italia in 1951. In addition to the event organized by G.M.S. in Bergamo, the Grand Prix Maglia Nera calendar also features Lake Garda Cycling Marathon, GF Marostica, Sportful Dolomiti Race, GF Pinarello and the 6XAndrea team time trial. All the amateur riders from 18 to 70 years old, regularly registered to FCI or other competent organizations, can take part in the challenge. Registrations for the circuit are open until Friday, March 31st. The circuit's classifications are reserved to the challenge's participants, divided into short and long route finishers. The four best placements out of the five Granfondo will be taken into consideration, in addition to the final team time trial.
Every granfondo of the circuit will host a dedicated Maglia Nera tent for the collection of the race pack for the Grand Prix participants. The awarding ceremonies will be held in Jesolo at the end of the 6XAndrea race on September 17th, with awards for each category (8 for long routes, 9 for short routes e 3 for women), plus individual awards for the amateurs. Also the teams with 10.000 kilometres ridden by the challenge participants, and the "maglia nera" (last-place finishers) of each category, will be recognized.
How to register for 2017 Granfondo Gimondi Bianchi
Participants can register for the Granfondo Gimondi-Bianchi's 21st edition filling out the dedicated online form on the official website www.felicegimondi.it, or at the G.M. Sport Office in Via G. Da Campione, 24/c – 24124 Bergamo (tel. +39 035.211721 – fax + 39 035.4227971).