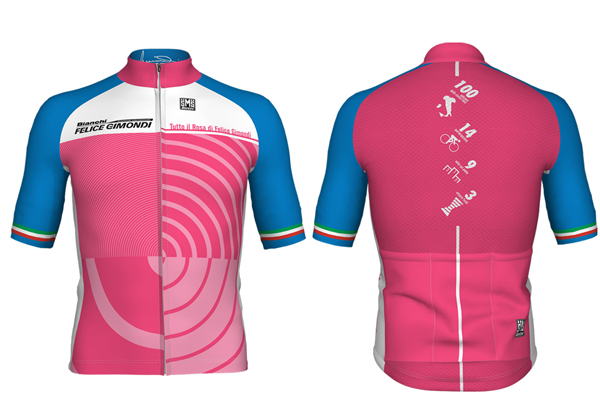 Gimondi fairy tale relives on Granfondo official jersey
The new outfit recalls the multiple shades of pink of Giro d'Italia's 100 editions, Felice Gimondi's victories, podiums and total participations, with some inserts linked to his Italian titles
Fourteen-time finisher, 1967, 1969 and 1976 overall winner, 9-time podium finisher (overall record), never withdrawn: Felice Gimondi's endless and incomparable story at the Giro d'Italia (celebrating the 100th edition next year), relives on Granfondo Internazionale Felice Gimondi Bianchi's official jersey, in view of the 21st edition of the event to be held in Bergamo on May 7th, 2017.
Specifically designed by the Organising Committee, and produced by Santini Maglificio Sportivo – Made in Italy, the new jersey emphasises the strong bond between Gimondi and one of the World's most famous stage-races, displaying the multiple shades of pink of Giro's leader jersey over the years from 1909 on, joined to the Italian iconic "azzurro" (on the sleeves) and "tricolore" (green, white and red inserts on the sleeves' far and buttons on the hips). "Tutto il rosa di Felice Gimondi" lettering is set at the heart level, on the left side. Four key numbers are printed on the shoulders' magenta background: 100 (editions of the Giro), 14 (times finisher), 9 (podiums), 3 (victories). The 2017 edition jersey features short sleeves and short zip; it is made in Energy Microsense fabric, light cloth that breathes, with triple rear pocket and exclusive design.
Produced in five sizes (S, M, L, XL, XXL), the jersey is available both for next event's participants and non-competitive cycling fans and can be ordered on GF Felice Gimondi Bianchi's website. "Tutto il rosa di Felice Gimondi" official jersey costs 33 euros, whilst the combo "jersey + race registration" price is 68 euros. The upcoming Christmas falls as an occasion to wrap the perfect gift for your friends and relatives who wish to enter the queen of the Italian GF or simply to wear a piece of cycling history.
GF Felice Gimondi Bianchi's next edition can already boast a 20 per cent of maiden participants coming from nine countries (Belgium, France, Germany, Italy, Netherlands, Sri Lanka, Switzerland and Hungary). The entries are being opened from last November 2nd.
How to purchase the 2017 official jersey
How to register for the 2017 Granfondo Gimondi-Bianchi
Participants can register for the 21st edition filling out the dedicated online form on the official website www.felicegimondi.it, or at the G.M. Sport Office in Via G. Da Campione, 24/c – 24124 Bergamo (tel. +39 035.211721 – fax + 39 035.4227971).