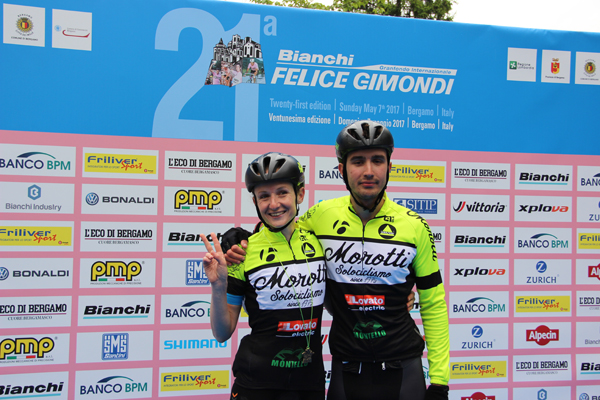 Team Morotti takes the whole in the short race
Glauco Maggi and his teammate Fabio Fadini scored a one-two in the 89,4-km men's competition while Alice Donadoni prevailed among the womed
Accompanied by the Italian National anthem's notes, 4.105 riders started the 21st Granfondo Felice Gimondi Bianchi right on schedule, today at 7:00 am, under a cloud cover but no rain, with a big day ahead on saddle throughout Bergamo and its province's roads.
The challenge quickly took over the emotions just after Felice Gimondi addressed greetings and words of caution to all the participants. Those tackling the short route (km 89,4) were first to join the finish line after barely 2h20'. Team Morotti's Glauco Maggi soloed to win, preceding the bunch (+1:09) with Maggi's teammate and 2016 winner Fabio Fadini outsprinting Giovanni Spatti (Cicli Peracchi Sovere).
Team Morotti built up the one-two on descent paving the way to Glauco Maggi victory. The winner from Sotto il Monte is a storekeeper in everyday's life, "a job like any other but I may have satisfactions on bike", Maggi said.
Alice Donadoni from Calcinate won the women's race, rounding out Team Morotti' supremacy all along the line.