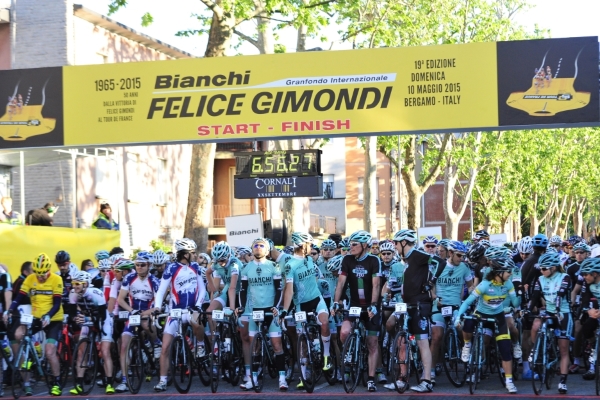 The Bianchi World gathers at Granfondo Gimondi – Bianchi
About 150 guests of the Italian manufacturer will be in Bergamo on May 14th and 15th to live a special experience. The very last starting numbers still out for grabs
If the bond between Felice Gimondi and Bianchi is written in the pages of the history of cycling, the partnership between to the Granfondo dedicated to the Champion and the Italian manufacturer also keeps strenghtening year after year. Also in 2016, Bianchi will be naming sponsor of the 20th Granfondo Felice Gimondi: a partnership that goes well beyond a mere brand placement.
Like last year, the 130th of Bianchi's history, the most famous Italian bike manufacturer will invite to the Granfondo Gimondi – Bianchi (Bergamo, May 14-15, 2016) about 150 guests from all over Europe and several Countries all over the World, including Australia, Japan, Korea, Taiwan and South Africa. The guests will report to the Bianchi welcome area inside the EXPO Gimondi, and will live two beautiful days of cycling, enjoying in full the beauty of the Bergamo area and the organization of an increasingly popular and international Granfondo.
"Granfondo Gimondi-Bianchi is an event we have believed in for many years: here, amateur cycling matches with a very high degree of organizational professionalism and efficiency," comments Claudio Masnata, Bianchi Marketing & Communication Manager. "That's part of the reason why, from last year, we elected Granfondo Gimondi-Bianchi as the perfect occasion to gather the Bianchi World together, creating a moment of sharing with many of our partners coming from far away."
As usual, Bianchi will also feature in the Granfondo Gimondi – Bianchi Expo area, at the "Lazzaretto" in Bergamo, bringing a wide selection of Road, MTB and City-Trekking models, including the pluri-awarded Specialissima, projected with the exclusive Countervail technology.
Additionally, Bianchi will be represented in the peloton also by the Bianchi Factory Team – the line-up made by Granfondo riders selected by Bianchi – and the Team Bianchi, composed by customers of the Officina Edoardo Bianchi in Bergamo and the Bianchi Cafè & Cycles Milano.