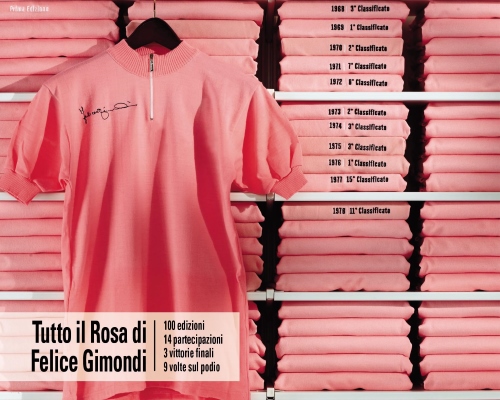 GF Gimondi-Bianchi in pink: see you on May 7th, 2017
The organizers set the official date of the 21st edition in Bergamo. "Felice Gimondi in the Pink" is the claim of the year, dedicated to the 100th edition of Giro d'Italia and Gimondi's outstanding record: 3 overall wins, 9 podium spots, finisher in all his 14 participations
The way to Granfondo Felice Gimondi-Bianchi's 21st edition started today, looking forward the 2017 edition's official date. Well-known as a top cyclyng4all event, due to its high-class technical and organizational standards, the prestigious event in Bergamo musters the most competitive riders for another demanding challenge to be held on Sunday, May 7th 2017.
"Every year our place in the Granfondo calendar depends on the Atalanta home fixtures in the Italian Serie A – organizer Giuseppe Manenti explained –. Provided that there's no way to combine any football match with our event, that takes place in the stadium's surrounding, we chose this date as the League programme was unveiled, and it's undoubtedly a fit for us".
While saving the date, GF Gimondi's most faithful riders from Italy and abroad discovered the theme of 2017 edition. "Our choice was quite mandatory – Manenti explained – as the Giro d'Italia that celebrates its hundredth edition next year was one of Felice Gimondi career's milestones. We wish to dedicate the event to all of his memorable feats at the pink race, including Felice's three overall wins and nine podium spots over 14 participations in which he was always a finisher, an outstanding record indeed".
"Felice Gimondi in the Pink" is 2017 edition's headline, symbolized by an intriguing picture where a shelf with hundred pink jerseys – as the number of Giro d'Italia editions – is displayed. As usual Granfondo Gimondi will present a celebrative jersey soon, linked to the event's theme to the delight of so many cycling fans and collectors.
With the aim to further improve the 2016 participation (with around 4.000 registered riders), hopefully further increasing foreign and women's attendance, Granfondo Felice Gimondi-Bianchi will confirm the three classic routes, "short", "medium" and "long" (89,4 km, 128,8 km, 162,1 km), personally charted by Felice Gimondi and much appreciated by every cyclist of any level or age.
GM Sport will soon announce the application opening date, giving the opportunity to enjoy some special opportunities for the early entrants. 
For further information: info@felicegimondi.com