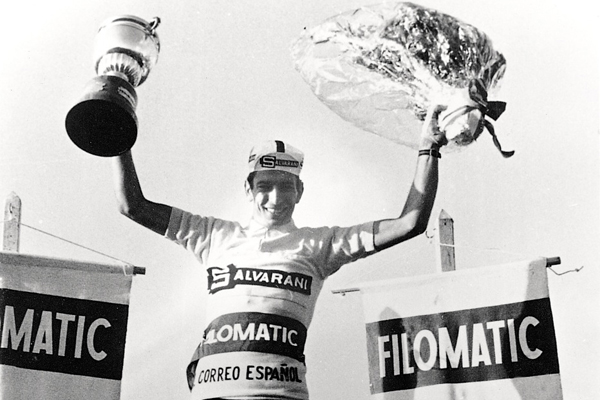 2018 GF Gimondi Bianchi on May 6th, in Spanish dressing
The organizers set the official date of the event in Bergamo. "Remembering the Vuelta" is the 22nd edition's theme, linked to the 50th anniversary of Felice Gimondi success at the Vuelta a Espana
"May 6th, 2018" is the next, special date the Granfondo Internazionale Felice Gimondi Bianchi's friends and enthusiasts must save and memorize as the main appointment for the cycling amateurs attracted by the cyclyng4all events featuring high-class technical and organizational standard.
The GF Gimondi Bianchi looks forward at the 22nd edition to gain further international appeal around Bergamo and its province, along the lines of the new prestigious partnerships established in 2017 with new sponsors from Germany, Switzerland and Taiwan.
"Every year our placement in the Granfondo calendar depends on the Italian Serie A fixtures – organizer Giuseppe Manenti explained –. Provided that there's no way to combine any football match with our event, that takes place in the stadium's surrounding, we chose this date as the League programme was unveiled. We had chosen Sunday, May 13th as the fit date, but Atalanta will host AC Milan on that day and due to this coincidence we had to move the event on May 6th".
"We well know about another Granfondo planned on the same day in Cervia and we feel such circumstance damaging both the events, but we had no other choice" Manenti added.
Linked to Felice Gimondi's feats, in 2018 the Granfondo will celebrate the success of Sedrina's champion at the Vuelta a Espana: "Remembering the Vuelta" is the 22nd edition's theme. On May 8th, 1968, Gimondi achieved the "amarillo" jersey by finishing with a runner-up placement in the stage 14th, from Santander to Vitoria. Felice wore the leader's jersey until the final day in Bilbao, imprinting the overall success with the penultimate stage victory, an ITT in Toulouse.
"I think it's a proper decision to celebrate Felice's winning ride on the Spanish roads. The victory of the "triple crown" (1965 Tour de France, 1967 Giro d'Italia, 1968 Vuelta) definitively set the seal on Gimondi's greatness: only Jacques Anquetil before him, as well as Eddy Merckx, Bernard Hinault, Alberto Contador and Vincenzo Nibali after him, have been able to do the same deed", Manenti explains. As usual a celebrative jersey linked to the event's theme will delight cycling fans and collectors, coming soon.
Granfondo Felice Gimondi-Bianchi will confirm the three classic routes, "short", "medium" and "long" (89,4 km, 128,8 km, 162,1 km), personally charted by Felice Gimondi and much appreciated by every cyclist of any level or age. GM Sport will announce the registration's opening date shortly, joined to some special opportunity for the early enrolled riders.
For further information: info@felicegimondi.com