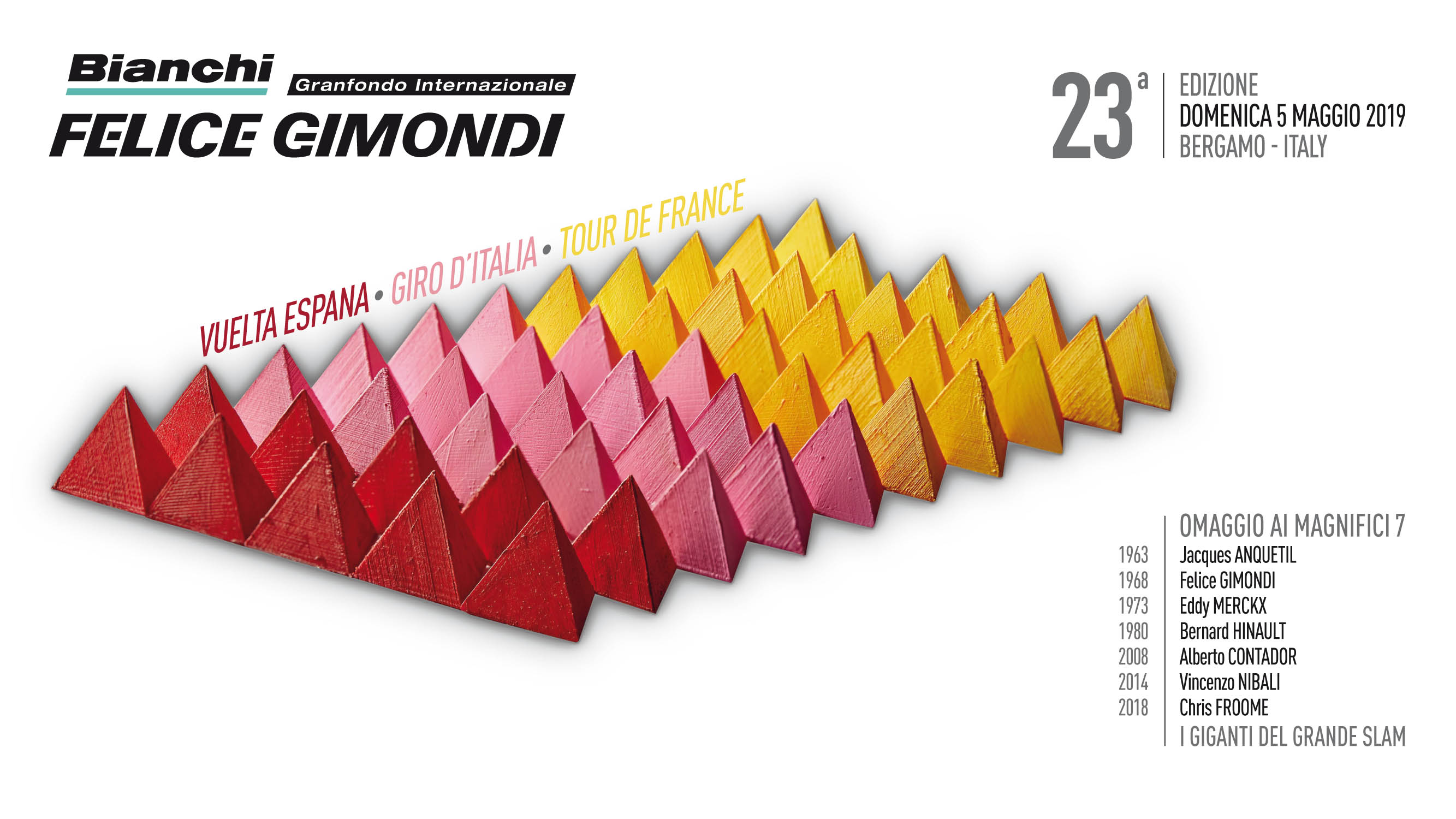 Bergamo to celebrate Grand Slam's Giants next May 5th
GF Gimondi Bianchi's organizers set the official date of 2019 event. "Tribute to the Magnificent 7" is the 23rd edition's theme, celebrating the cycling champions able to win Giro d'Italia, Tour de France and Vuelta Espana
"Tribute to the Magnificent 7", May 5th 2019: these are the theme and the official date of 23rd Granfondo Internazionale Felice Gimondi-Bianchi, the main cyclyng4all event featuring high-class technical and organizational standard. Long-standing tied with the main victories of Felice Gimondi all over the world, the event in Bergamo will also celebrate other former and today's champions able to equal Gimondi's feat on the same prestigious races.
As usual, the GF Gimondi Bianchi's placement in the Granfondo calendar depended on the Italian Serie A fixtures. "We'd like to fix the dates of next events until 2025, but we always have to take into account the Serie A schedule and Atalanta's home matches, due to safety and traffic reasons. Maybe in three years, once the stadium refurbishment will be completed with the construction of a new underground parking, we'll manage to plan more independently our event", organizer Beppe Manenti said.
The 2019 Granfondo will highlight Felice Gimondi's hits and even more. After the celebration of Gimondi's triumph at the 1968 Vuelta Espana, where Felice completed the "triple crown" with the wins at Tour de France (1965) and Giro d'Italia (1967), next year the GF Gimondi Bianchi will honor the "magnificent 7" riders able to achieve the Grand Slam. Jacques Anquetil was the very first to complete the "one-two-three" in 1963, followed by Felice Gimondi (1968), Eddy Merckx (1973), Bernard Hinault (1980), Alberto Contador (2008), Vincenzo Nibali (2014) and eventually Chris Froome, the latter joining the élite club by winning the 2018 Giro d'Italia.
"We aim to emphasize both Gimondi's victories and the historical pages where he left his indelible mark. While our 2019 event's brainstorming, Froome topped the Giro d'Italia's GC joining the triple crown's club, so we took the opportunity to launch the 'Magnificent 7' theme", Manenti added.
Also for the 23rd edition, the Granfondo Gimondi Bianchi's organizers are going to draft a celebrative jersey linked to the event's topic, coming soon to delight cycling fans and collectors.
GM Sport will announce the registration's opening date shortly, joined to some special opportunity for the early enrolled riders. Granfondo Felice Gimondi-Bianchi will confirm the three classic routes, "short", "medium" and "long" (89,4 km, 128,8 km, 162,1 km), personally charted by Felice Gimondi and much appreciated by every cyclist of any level or age.
For further information: info@felicegimondi.com