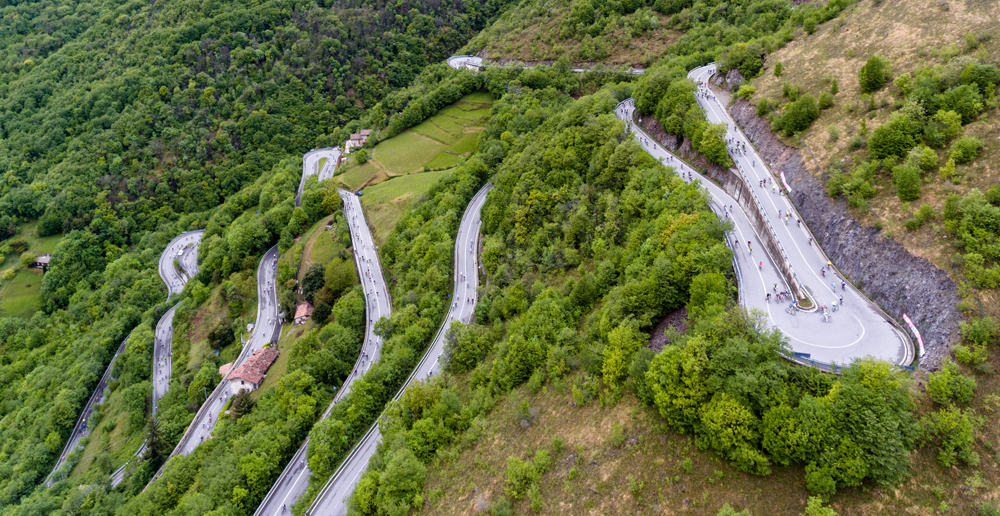 Entries to the "Spanish-style" GF Gimondi opening on November 2nd
It's time to pick-up a spot in the earliest grids at 22nd Granfondo Internazionale Felice Gimondi Bianchi, to be held nex May 6th, 2018, dedicated to the 50th anniversary of Felice Gimondi's triumph at Vuelta a Espana
For Spanish people is Vitoria, for Basque citizens Gasteiz. However you call it, Vitoria/Gasteiz is the city where Felice Gimondi wore his maiden amarillo jersey after 23rd Vuelta a Espana's stage-14, at the expence of José Pérez Francés. The Italian legend from Sedrina managed then to hold it until Bilbao, after sealing the final success by winning the San Sebastian-Tolosa ITT. It's been 50 years since that memorable feat that allowed Gimondi to complete the "triple crown" after the GC wins at Tour (1965) and Giro (1967). Granfondo Felice Gimondi Bianchi couldn't do without celebrating this occasion, choosing "Remembering the Vuelta" as 22nd edition's headline. The event, to be held on Sunday May 6th, 2018 in Bergamo, is opening entries on Thursday November 2nd.
From Thursday, 9:00 am CET onwards, the queen of granfondos' fans will have the opportunity to pick up a spot in the earliest grids: the registrations will be open through the official website www.felicegimondi.it, by filling the online form, as well as at the G.M.S. main office in Via G. Da Campione, 24/c – 24124 Bergamo (tel. +39 035.211721 – fax + 39 035.4227971).
"The final success I claimed in my first participation at the Vuelta was a great satisfaction. It was a really demanding edition, entered by ambitious and multi-skilled participants like Vittorio Adorni, Jan Janssen, Lucien Aimar. The roads were slippery, especially in the descents. In a mountain stage, after we covered a climb with a slow pace, there were lots of attacks in the following downhill: I wasn't able to properly tackle the first bend, losing half a minute. I managed to recover thanks to my team. Anyway, my fondest memory is Vitoria's stage: with 50 km to go I acted a spectacular comeback on the leading group claiming the 'amarillo' jersey, that I secured with the victory in Toulouse ITT" Gimondi tells.
The GF Gimondi Bianchi "Remembering the Vuelta" will be held on the three classic routes – short (89,4 km), medium (128,8 km) and long (162,1 km) – personally drafted by Felice Gimondi, one of the event's strong points deeply appreciated by many participants from all over the World.
From November 2nd, 2017 to March 31, 2018 the entry fee is 35 euros, including front and rear race number, magazine/schedule, information material, subscriptions, timing service, TDS timing chip, memory medal (after the finish), proof of participation, parta party voucher, parta party plus one voucher, medical and mechanical (spare parts excluded) assistance, bike storage after the finish, food services during and after the race, showers, bike parking, transmission of results by SMS and e-mail. The entry fee will be 50 euros from April 1st to 13th 2018, registrations' closing date
GF Gimondi's 22nd official jersey designed by Santini Maglificio Sportivo – Made in Italy, in Energy fabric, with short sleeves and zip and "Remembering the Vuelta" limited edition special design, can be also be joined to the grid spot in a single package. This option's cost is 68 euros from November 2nd, 2017 to March 31st, 2017, 83 euros from April 1st to 13th, 2018.
GM Sport under Giuseppe Manenti guidance planned a number of special initiatives aiming to further increase the popularity of the Granfondo Felice Gimondi Bianchi, well-known for its such high-class organizational standard to draw in the latest edition prestigious partners also from Germany, Switzerland and Taiwan.
For further information: info@felicegimondi.com