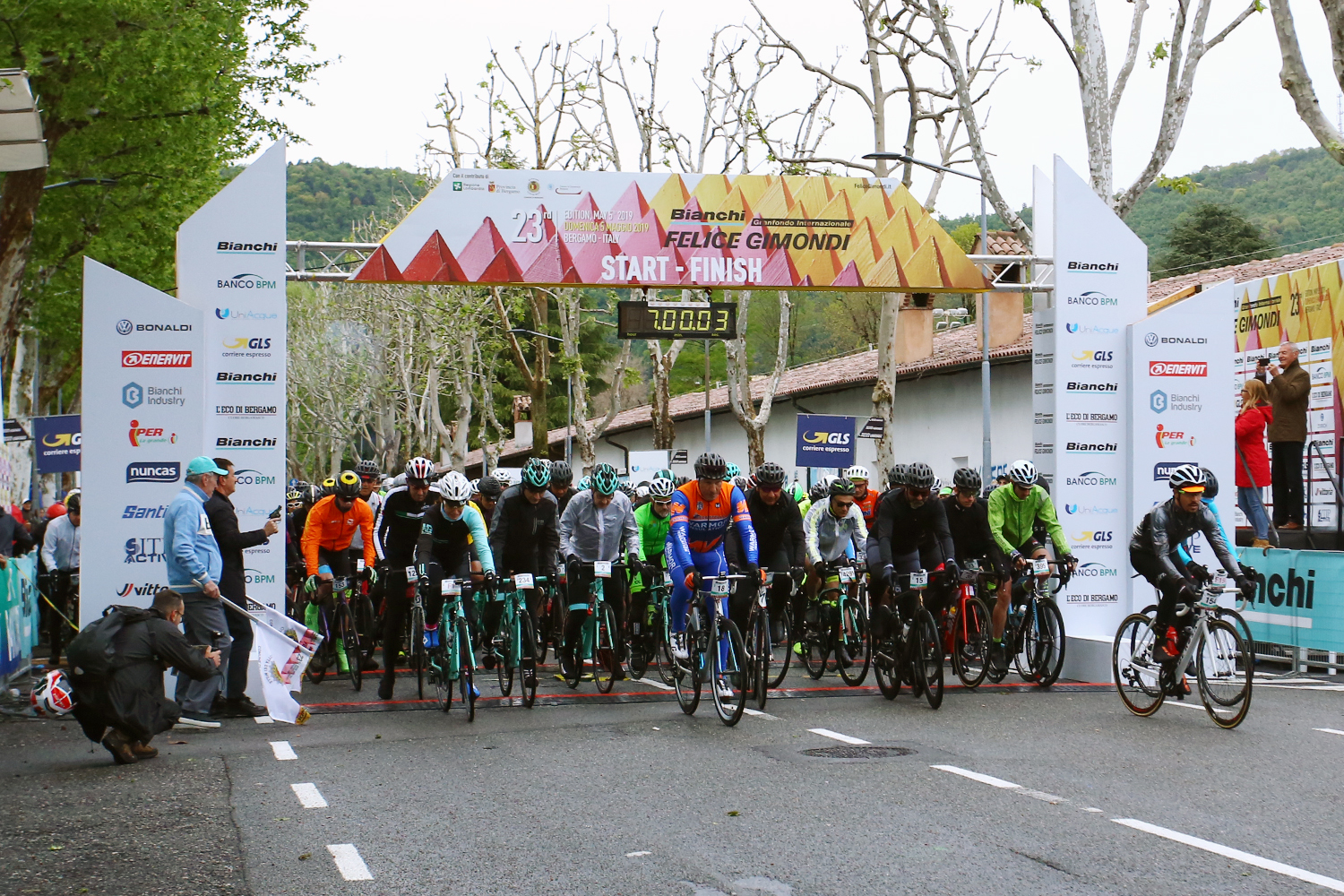 A five-circles Granfondo to be held in Bergamo next May 10th
GF Gimondi Bianchi's OC fixed the official date of 2020 event, set to have a wide-ranging theme linked to the Olympic year
Not only the Italian football fans were eager to have the 2019-2020 Serie A football league fixtures unvealed. As a tradition, the GF Gimondi Bianchi organizers waited to know the Atalanta BC home schedule to make official the date of the 24th edition, due to safety and traffic reasons, also related to the stadium refurbishment in progress.
The 24th Granfondo Internazionale Felice Gimondi-Bianchi will be held on May 10th, 2020. "Considering the logistics of our event, we always have to take into account the Serie A fixtures. Anyway, we're satisfied with this timing and we aim to attract in Bergamo a huge number of cycling fans, hoping in completely different wheater conditions than this year", the Granfondo's organizer Giuseppe Manenti stated.
The OC will unveil next edition's headline within a few days. As for the 23rd edition, dedicated to the "Magnificent 7" champions able to win at least once in life Giro d'Italia, Tour de France and Vuelta a Espana, next event won't celebrate a specific Felice Gimondi's victory, focusing on a wide-ranging theme linked both to the Olympic year and the champion from Sedrina.
Also for the 24th edition the Granfondo Gimondi Bianchi's organizers are going to draft a celebrative jersey linked to the event's theme, coming soon to delight cycling fans and collectors. GM Sport will announce the registration's opening date shortly, joined to some special opportunity for the early enrolled riders.
Granfondo Felice Gimondi-Bianchi will confirm the three classic routes, "short", "medium" and "long" (89,4 km, 128,8 km, 162,1 km), personally charted by Felice Gimondi and much appreciated by every cyclist of any level or age.
For further informations: info@felicegimondi.com
Bergamo (Italy), 2018, July 26th