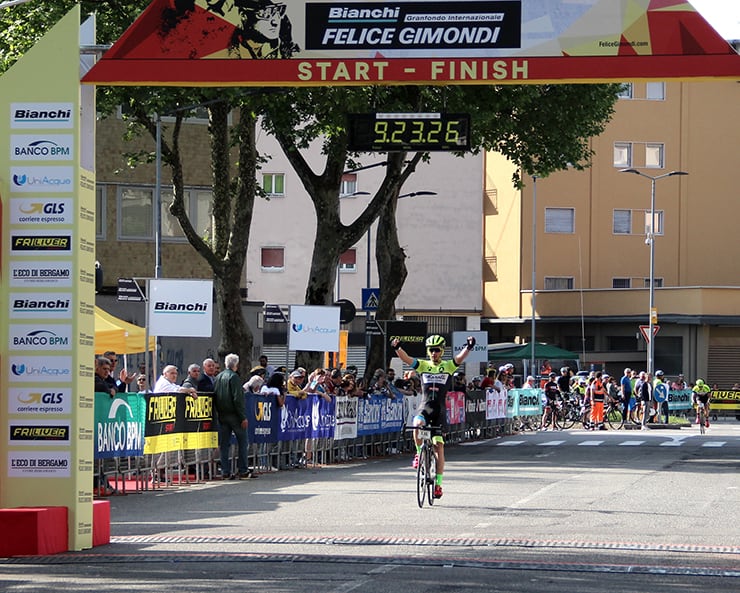 Familiar faces rule on the short course: Maggi does it again ahead of Fadini
The Granfondo Gimondi Bianchi start – opened by Felice Gimondi himself – took over 10 minutes until all the 4.000 participants got off their adventure. After the touching moment dedicated to Dompè CEO Eugenio Aringhieri who suddenly passed away few days ago (a small ceremony was attended by the two sons), a stream of bikes overran the routes of Bergamo and its province to carry on this Sunday early morning's tradition for the 22nd time.
The first finishers completed the short route in 2h23.25 after climbing Colle del Pasta, Colle del Gallo and Selvino for a total of 23,1 km uphill out of 89,4 overall. Glauco Maggi (Morotti) claimed an encore of last year finish ahead of his teammate Fabio Fadini (2nd in 2017 as well), while Roberto Massa rounded out the top-three.
Maggi and Fadini have dominated the last three editions on the short route. Today Maggi looked out of contention for the win at first, but managed to get back on the leaders on descent, and finally kicked out in the final stretch.
Monica Bonfanti (Rodman Azimut) secured the first place in the women's race, back to win nine years later.