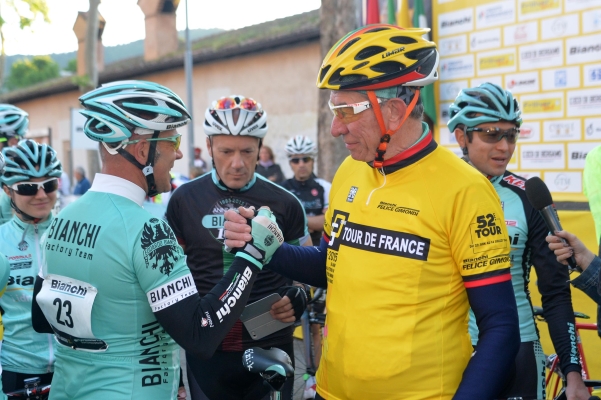 "Puntuali" and Rota's bad luck. Gimondi: "Go, Carlo! You'll be back with us soon"
Granfondo Felice Gimondi Bianchi's 20th edition, taking place on May 14th-15th in Bergamo (Italy) relights the passion of the cycling community for the Italian GF event, grown year after year There are some riders who stand out among the thousands who entered the Bergamo's Granfondo in years, linked by a common thread: they are the so called "puntuali", the regular finishers, who accomplished to finish each and every edition this far.
Stronger than anything – rain, bad weather, fatigue, aches and pains – those loyal riders never missed the date, covering the whole route to show their pride and incredible love for the event. Granfondo Gimondi Bianchi always nurtured this emotional relationship with cycling fans, including those who are no longer with us: that's the story of Davide Fardelli, a GF Gimondi Bianchi's friend untimely died in August 2004, due to a tragic accident, whom the organizers chose to commemorate by retiring the #50 number that he wore in his final participation.
This year, one of the "puntuali", Carlo Rota, tried as usual to be stronger than all troubles: he also managed to come back on saddle after a delicate surgery to train for GF Gimondi Bianchi's 20th edition, with the doctors' approval. Finally, though, an unfortunate accident forced him out of the race, just 20 days ahead of the fixture. Rota can only blame bad luck for missing the first GF Gimondi Bianchi after 19 editions in a row: a scratch that hurts way more than the injuries.
Rota's loyalty impressed also Felice Gimondi, who sent his message to Rota: "We'll miss you, Carlo, but we look forward to embrace you again in 2017. If nothing could stop you up to now, we're confident you'll come back stronger than before. We will be waiting for you".