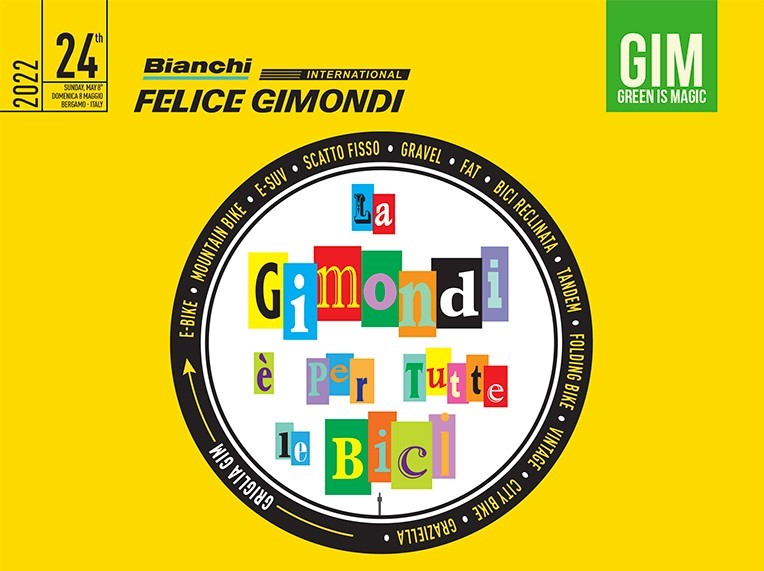 Granfondo Gimondi Bianchi welcomes all bikes
Through the GIM project, Bergamo's 4all event opens the registrations to all types of bikes, both muscular and electric: next May 8th, 2022, will be an entertaining party for cycling enthusiasts
When it's time to opening up to innovations, the Granfondo Internazionale Felice Gimondi – Bianchi is always at the forefront. The most recent project embraced by GMS, the event organizing company, is GIM – Green is Magic, aiming to leave behind the classic concept of granfondo dedicated only to road bikes while welcome all types of two-wheel, from the cutting-edge to the traditional ones.
The 24th edition of the event, scheduled in Bergamo on May 8th, 2022, will be a feast for all cycling enthusiasts: from vintage to e-bikes, including mountain bikes, e-suvs, fixed-gear bikes, gravel bikes, fat bikes, recumbent bikes, tandems, folding bikes, city bikes and the ever-popular "Graziella", which has already made its debut in previous editions.
"Given the great variety of bikes in today's cycling world and its continuous growth – the organization manager Giuseppe Manenti argued – we are convinced that a new space dedicated to all types of bikes might be a key step step towards a more appealing granfondo even in the future".
The registrations for this special category follow the same procedures, requirements, and fees as per classic ones: 46,00 euro for the basic sign up, 84,00 euro including the Sedrinese jersey, Felice Gimondi's first historical team, designed by Santini sportswear in limited edition.
"GIM" will have a dedicated grid, with the start set shortly after the road bikes by tackling the short course, 89.4 km total (1.400 mt of difference in altitude and 23.1 km of uphill), with partial and total timing records and prizes to be drawn. Registrations close on Saturday, April 16th, 2022.
More information and registration forms are available on the official website's sign up page or by phone at +39 035 211721.
TRADITIONAL REGISTRATIONS ARE STILL AVAILABLE
Race numbers are still available for the traditional event, held on the three classic routes: besides the short trail of 89.4 km, intermediate route of 128.8 km and the long one of 162.1 km, all designed by Felice Gimondi himself.
Signing up for the event is possible through the proper section on the proper sign up page.