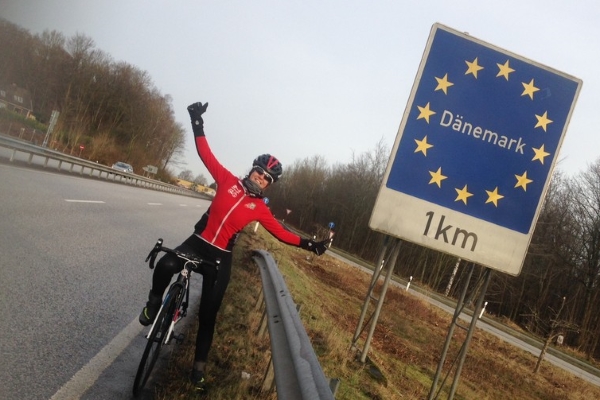 "Bike the Nobel" testimonial Paola Gianotti special guest at GF Gimondi presentation
The Italian ultracycler, testimonial of bicycle's candidacy to the Nobel Peace Prize, will be Felice Gimondi's guest at the official presentation in Bergamo on April 14th
Bicycle has the ability to connect different people and stories. A race of 300 km might have sounded unimpressive in Felice Gimondi's era, but even the cycling legend would not dream of travelling around the World by bike. Paola Gianotti did. The endeavors of the 34-year-old ultracycler from Ivrea, Italy, earned her the honor to travel from Milan to Oslo by bike, with a special mission: deliver the bicycle's candidacy to the Nobel Peace Prize, launched after the campaign promoted by Italian Rai "Radio Due".
The echo of Paola's cycling marathon reached Felice Gimondi, who expressed his desire to meet the ultracycler. Paola Gianotti accepted Felice's invitation, and will participate in the 20th Granfondo Gimondi Bianchi's official presentation, taking stage on Thursday April 14th at 11, at the Credito Bergamasco headquarter in Bergamo.
"I was really impressed by what Paola Gianotti managed to do in these years," Gimondi stated, "it's an all different cycling from mine, and it requires incredible preparation, determination and passion. I wish could have Paola on my side at the start of the 20th Granfondo Gimondi-Bianchi in Bergamo on May 15th, unfortunately though she will be in the United States for another incredible challenge. Anyway, the recount of her experience will be a beautiful gift for our presentation."
In the meanwhile, registrations to the 20th Granfondo Gimondi Bianchi are still open and may be filed for directly online on the official website www.felicegimondi.com, by bank transfer or directly at the headquarters of the organizing company in Bergamo, Via G. Da Campione, 24/c.
For more information: info@felicegimondi.com