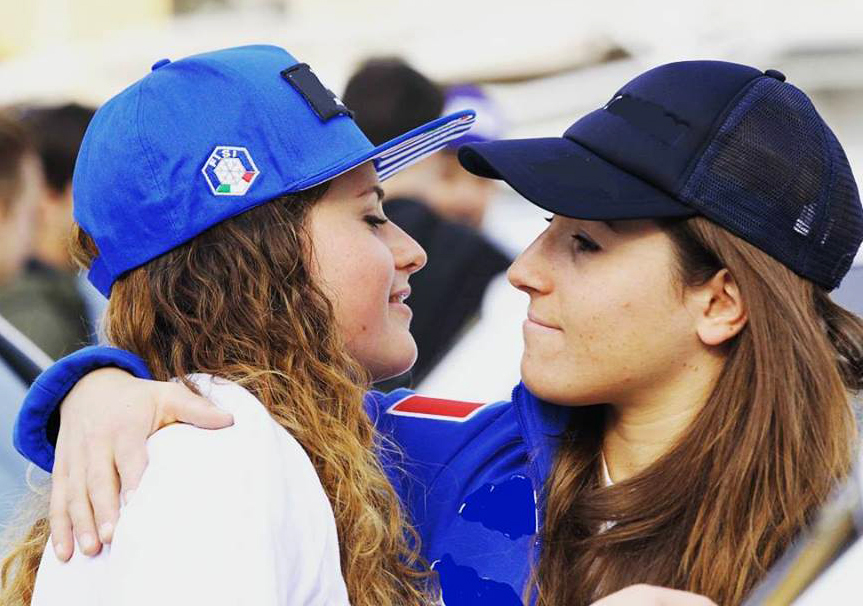 Gimondi calling for WOG gold medallists Goggia and Moioli: "The Granfondo is waiting for you"
The champion from Sedrina invites the two athletes from Bergamo who shone gold at the Winter Olympics in PyeongChang
Bergamo is the city of snow and sport, again. Snowboarder Michela Moioli and ski racer Sofia Goggia added new chapters and new names to the "Golden book" of Bergamo's champions, by scoring new success in their respective disciplines at the Winter Olympic Games in PyeongChang (North Korea). A great champion like Felice Gimondi stands out among the sports enthusiasts from the so-called "City of the Thousand" that proudly applauded Moioli and Goggia's gold medals: "As Italian and countrymen, we're proud of Sofia and Michela: we would be happy to host them at GF Gimondi Bianchi's start in Bergamo, next May 6th" the champion from Sedrina says.
Moioli and Goggia joined the inner circle of Bergamo's OG gold medallist – including Paoletta Magoni, winner of the Women's slalom at Sarajevo 1984, cyclists Ernesto Mario Brusoni, gold medallist at the 1900 Summer Olympics in the Points Race (not recognized by International Olympic Committee as part of the OG program, but 88 years later by Italian National Olympic Committee), Mario Morettini winner of the Team Pursuit at Helsinki 1952, and Giacomo Fornoni, gold medallist in Rome 1960 TTT on track. Last but not least, this exclusive club includes also Martina Caironi, three-time Paralympic champion between Rio de Janeiro (2012) and London (2016) and the biker Chiara Teocchi – raised in Bianchi MTB Team chaired by Gimondi himself – gold and silver medallist at Nanjing's 2014 Youth Olympics. Altough he has never won the Olympic Games, Gimondi gold-painted Bergamo's name by topping the World Championships (Barcelona 1973), the Tour de France, the Vuelta a España and three times the Giro d'Italia, besides several international classics. "Our city and its nearbies have always been a hotbed of talents who managed to mix technical and athletic skills with the typical persistence and the obstinacy of Bergamo's people" Gimondi explains.
Persistence, obstinacy but also willingness to have a good time riding a bike: this is what characterises the friends of the Granfondo Internazionale Felice Gimondi Bianchi, ready to tackle the three classic routes – short (89,4 km), medium (128,8 km) and long (162,1 km) – personally drafted by Gimondi and year by year more appreciated by all the participants. The 22nd GF Gimondi Bianchi's headline is "Remembering the Vuelta": it's been 50 years since the victory of Vuelta a Espana's GC that allowed Gimondi to complete the "triple crown" after the GC wins at Tour and Giro. Gimondi is going to celebrate this special anniversary with four thousands friends and perhaps with two special guests: "Michela, Sofia, are you coming?".
How to register for the 2017 Granfondo Gimondi-Bianchi
Until March 31, 2018 the entry fee is 35 euros. Participants can register for the 22nd edition filling out the dedicated online form on the official website www.felicegimondi.it, or at the G.M. Sport Office in Via G. Da Campione, 24/c – 24124 Bergamo (tel. +39 035.211721 – fax + 39 035.4227971).
Photo: Michela Moioli and Sofia Goggia, gold medallists in PyeongChang (Photo FB / Michela Moioli Official)