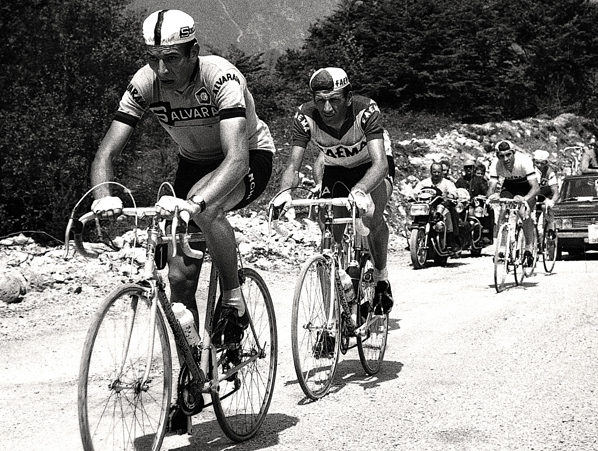 Gimondi bids on Froome at the Giro: "Ready for the triple crown"
The Italian legend believes the British rider can join the "club" of the champions able to win Giro d'Italia, Tour de France and Vuelta a Espana. Felice rounded-out his grand slam in 1968 Vuelta: next GF Gimondi Bianchi (May 6th, 2018) is dedicated to that victory
Felice Gimondi celebrated his grand tour triple crown in 1968, adding the Vuelta a Espana to his roll of honors, after the overall triumphs at Tour de France and Giro d'Italia (first out of three). The feat at 1968 Vuelta, to be celebrated in GF Gimondi Bianchi's 22nd edition next May 6th, 2018, allowed Gimondi to enter the élite group of the champions able to top all the Grand Tours, including Jacques Anquetil, Eddy Merckx, Bernard Hinault, Alberto Contador and Vincenzo Nibali, the most recent. Three years after this latter's achievement, there's a further pretender aiming for the triple crown: Christopher Froome, four times king of the Tour and winner of the 2017 Vuelta.
"Froome wouldn't have missed the Pink Race: after the Vuelta and multiple Tour de France wins, he must try to win the Giro d'Italia. I think he can succeed and get the double Giro-Tour in the same year, so that he can definitively settle himself as one of the greatest riders ever". Gimondi looked for the double in 1967 without getting it: one of the main regrets of his career. "The deepest, I can say. I thought I could get it at the Tour: I was in a brilliant shape, but some intestinal problems knocked me out. We were on riding on the Pyrenees, I was looking for water since 30 kilometers: I took a bottle of cold water from the service van of the Tour and I drank it in one shot" Gimondi tells. After the success in Briançon, Gimondi also topped the Puy-de-Dome stage, but he couldn't be enough to fight for the overall win.
"Froom can do it – Felice added -. It's difficult to outdistance him on the climbs, because he's properly skilled and supported by a strong team. He can also perform well in the TT stages, without losing too much from specialists like Dumoulin. Anyway, the battle will include other riders, starting from Aru, who won't give up before having played all his cards".
The GF Gimondi Bianchi "Remembering the Vuelta" will be held on the three classic routes – short (89,4 km), medium (128,8 km) and long (162,1 km) – personally drafted by Felice Gimondi and deeply appreciated by many participants from all over the World.
From November 2nd, 2017 to March 31, 2018 the entry fee is 35 euros, including front and rear race number, magazine/schedule, information material, subscriptions, timing service, TDS timing chip, memory medal (after the finish), proof of participation, parta party voucher, parta party plus one voucher, medical and mechanical (spare parts excluded) assistance, bike storage after the finish, food services during and after the race, showers, bike parking, transmission of results by SMS and e-mail. The entry fee will be 50 euros from April 1st to 13th 2018, registrations' closing date.
GF Gimondi's 22nd official jersey designed by Santini Maglificio Sportivo – Made in Italy, in Energy fabric, with short sleeves and zip and "Remembering the Vuelta" limited edition special design, can be also be joined to the grid spot in a single package. This option's cost is 68 euros from November 2nd, 2017 to March 31st, 2017, 83 euros from April 1st to 13th, 2018.
Learn more: info@felicegimondi.com