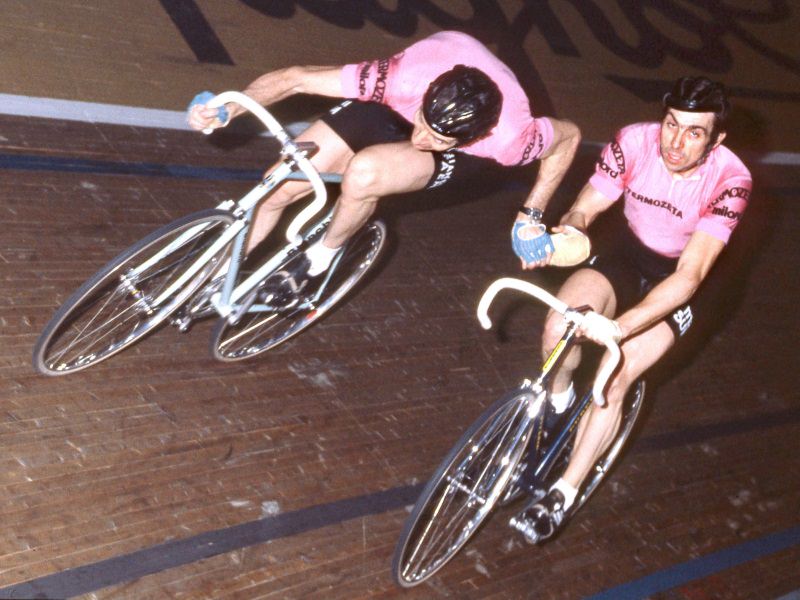 Gimondi at 6 Days of Ghent to launch his golden anniversary with yellow jersey
Drawing near to 2015 Granfondo Felice Gimondi-Bianchi registrations' opening, scheduled for next November 20th, the organizers of the popular cycling4all event taking place in Bergamo (Italy) on May 10th, 2015 are glad to announce the 19th edition will celebrate 50 years of Felice Gimondi's victory at Tour de France.
Named after former Italian champion Felice Gimondi, the event will honor the historical anniversary of the yellow jersey worn in Paris at 1965 Tour de France, and hopes to gather a massive number of amateur riders from all over Europe: Gimondi personally charted three amazing routes (89,4 km, 128,8 km, 162,1 km) suitable for every cyclist, of any level or age.
With the intent of promoting the event among Northern-Europe cycling fans, Felice took the opportunity of the prestigious invitation received by the 6 Days of Ghent, the traditional track event crowded by 7.000 spectators every night, to be the opening night's "guest star", on Tuesday, November 18th at t'Kuipe Velodrome.
"I was delighted by the invitation – Gimondi explained – as my old friend Patrick Sercu is the race director in Ghent and I'll be more than happy to meet him once again. I liked very much the idea to return in Belgium where I left nice souvenirs of my career".
Patrick Sercu can't wait to seize the moment indeed: "I am happy and proud to have my friend, former colleague and true cycling legend Felice Gimondi as our guest of honor to fire the starting gun of the 74th Ghent Six-days."
Gimondi has been and still is very popular in Belgium, due to his never-ending rivalry with Eddy Merckx. "We are extremely proud to welcome Felice Gimondi in Ghent as our guest of honor at the opening night of the Lotto six days. – the event's director Rob Discart stated – We believe that many cycling fans will respond in an enthusiastic way, by giving them a unique opportunity to meet in "het Kuipke" with the former World Champion and winner of the Tour de France".
Giuseppe Manenti, Granfondo Felice Gimondi-Bianchi organizer, commented: "Throughout the last 20 years, we welcomed riders from all over the world, but to celebrate this year's special anniversary we would love to welcome many more participants from Belgium, Netherlands and France, who will have the opportunity to reach Bergamo through direct low-cost flights. We're grateful to Six Days of Ghent for the amazing opportunity we'll have to reach all the Flemish fans".