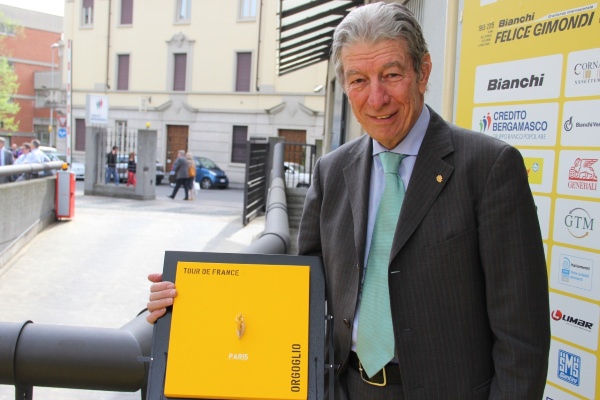 Gimondi adds a dream to a memorable Granfondo
Felice wishes to gather in Bergamo the three 1965 Tour de France podium finishers, in the event that celebrates 50 years of his yellow jersey
"On May 10th, I would love to regroup the podium of 'my' Tour de France: myself, Raymond Poulidor, Gianni Motta." Felice Gimondi has a dream to fulfil at the event that will celebrate his historical 1965 Tour de France yellow jersey in just less than three weeks. Granfondo Internazionale Felice Gimondi Bianchi's organization is going full steam. Today, April 16th, at Credito Bergamasco's headquarter in Bergamo (Italy), the 19th edition – taking place on May 10th – was presented: the guests were welcomed by a yellow catwalk and by the 22 special installations realized to recall and celebrate each of the stages that led Felice Gimondi to the triumph in Paris.
All cycling fans are looking forward to May 10th to join Felice Gimondi at the start of three beautiful courses, drafted by GM Sport organizing company, guided by Beppe Manenti. About 3.500 riders are expected at the start, 35% more than last year, with 25 represented Countries from all over the World: a significant promotion and International visibility also extended to Bergamo and its territory.
Bianchi, naming sponsor of the event, has an important anniversary to celebrate on its own – the 130th year of its history – and will invite about 200 guests and VIPs from all over the World to Bergamo. Together with a company that built on its past glory (much of it related to the name of Felice Gimondi himself) to create a very successful present on the international markets – establishing itself as a benchmark for style, perfection and technology – the Granfondo made clear show of its intention of extending its borders and consolidating as a big international cyclo-sportive event.
This year, the Granfondo comes in coincidence with Expo Milano, as Lombardy Sports Assessor Antonio Rossi mentioned. "Gimondi is an Expo testimonial, and an incredible Italian personality. To celebrate with him the 50th anniversary of his yellow jersey will be a unique opportunity, and I am looking forward to be at the start myself once again." Just like him, every participant will choose among three beautiful routes: 89,4 km (short), 128,8 km (medium) e 162,1 km (long), where a huge number of operators and facilities will be working to guarantee the utter security and environmental care, two of Granfondo Gimondi's long-time priorities.
"Everything seems to suggest that it will be a great event, as it must be to celebrate such an historical anniversary for Felice Gimondi. Also, the 130 years of Bianchi give us the opportunity to further strengthen a relationship that goes beyond the pure marketing. We share with Bianchi an identity and quality standard, both mirrored by our common Champion and icon," stated the organizer, Beppe Manenti.