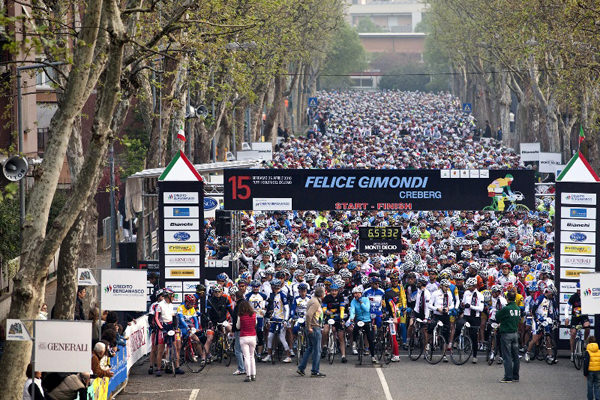 Granfondo Gimondi-Bianchi facts and figures
The event that celebrates the 50th anniversary of Felice Gimondi's triumph at Tour de France goes much beyond sport. Official presentation on April 16th, in Bergamo
With just over a month until the appointment scheduled on Sunday, May 10th, in Bergamo, the organizers of the Granfondo Gimondi-Bianchi are accelerating the preparations for the 19th edition of the event that will celebrate the 50th anniversary of Felice Gimondi's triumph at the 1965 Tour de France, as well as 130 years of the brand Bianchi, a historical achievement for the legendary company.
ALMOST 70.000 PARTICIPANTS, ONLY 42 "ON SCHEDULE"
In the stats book of the Granfondo – which will be unveiled on Thursday, April 16th, in Bergamo, at 11 am, at the Credito Bergamasco's Sala Trani – you will discover significant facts representing the event's impressive background. From the historic first edition of May 5th 1996, 68.812 cyclists have attended event, of which 56.957 (82%) were able to conclude the test, while 42 riders, the so-called "Puntuali" (on schedule), were able to finish all the editions of the event that bears the name of the champion from Sedrina.
AT SELVINO, THE UPHILL TT IN MEMORY OF MERCORIO
After the positive results of the latest editions, organizers' executive Giuseppe Manenti, and his colleagues came up with the idea of the "Cronoscalata Eugenio Mercorio", to reward the best times on Selvino's climb. Dedicated to Eugenio Mercorio, Gimondi's friend and esteemed accountant who passed away prematurely in 2010, the time trial will start from the town of Nembro to end after 10.4 km and 621 meters in altitude in Selvino (average gradient of 5.1%, maximum gradient of 10%).
THE RETIRED NUMBER: #50 BY DAVIDE FARDELLI
An emotional relationship between the GF Gimondi and its protagonists endures even with those who unfortunately are gone. The organization of the event wanted to remember Davide Fardelli – friend of the "Gimondi", who died in August 2004 after a tragic car accident while on his bike – with the final withdrawal of the bib number 50, worn by Fardelli in his last appearance at Granfondo. A successful businessman with a passion for cycling, Fardelli had won four titles of Bergamasco Udace Chain his provincempion, once at regional level and three stages in the Giro della Provincia Bergamasca.
ART & BIKE. THIS TIME IS UP TO MARIELLA BETTINESCHI
The link between Granfondo Gimondi and the arts goes on successfully in 2015, since the event accostumed to extend its presence out of sports too, awarding the best local artists displaying their pieces of arts to bike people from all over the world. This year's choice o, under the staff coordinated by Credito Bergamasco and Foundation Creberg General Secretary, Angelo Piazzoli, has fallen on Mariella Bettineschi.
IF YOU ARE NOT REGISTERED YET, DO IT NOW!
The ones who didn't register for the Granfondo Felice Gimondi-Bianchi can do it now:
– Online on the website www.felicegimondi.it
– Via postal order or bank transfer by downloading the registration form from the website www.felicegimondi.it
– At the headquarters of the organizing company in Bergamo, Via G. Da Campione, 24 / c.
For more informations: info@felicegimondi.com