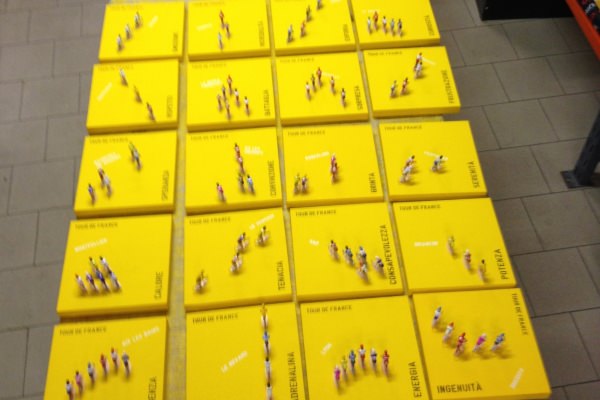 GF Felice Gimondi Bianchi's success as a matter of fact
The event preview tomorrow in Bergamo to display an uncommon exhibit 's premiere
The Granfondo Internazionale Felice Gimondi Bianchi unveils tomorrow, April 16th in Bergamo, its 19th edition, to be held on Sunday, May 10th but up to raise excitiment and curiosity since now with plenty of side events, among which the exhibit Creberg Foundation dedicated to Mariella Bettineschi, strengthening the long-life feeling the event established between arts and sports.
GM Sport organizing team led by Beppe Manenti took the earliest opportunity to display an absolute premiere of another uncommon exhibit to celebrate the 50 years of Felice Gimondi triumphant Tour de France which the event is dedicated to. The yellow jersey colour will be the theme of the whole 1965 "Grand Boucle" story throughout 22 installations, once for each stage, conveying how it unfolded to relive the frames of minds of a young man going to achieve the glory when he was almost 23.
At the event's preview, attended by Felice Gimondi in person, some figures around participation will be announced: the event already gathered 2600 registered riders. "We aim to largely 3000, up to approach 3500 hopefully – Manenti argued -. We got the crisis behind us after the year off in 2013, our Granfondo is now glistening bigger and more prestigious than ever". With participation in development (around +35%) and over 20 worldwide countries represented, 2015 edition will leave a mark as the most global in the event's history. "We invested in promotion and communications to offer an extremely successful event to our hosting city. Because of our Granfondo, Bergamo has a great chance to become an attractive destination for cycling fans coming from all over Europe and abroad in the next few years", Manenti said.
The Granfondo Gimondi Bianchi takes place through tree amazing courses – short (89,4 km), medium (128,8 km) and long (162,1 km) – leaving all participant free to decide their favourite one during the race.