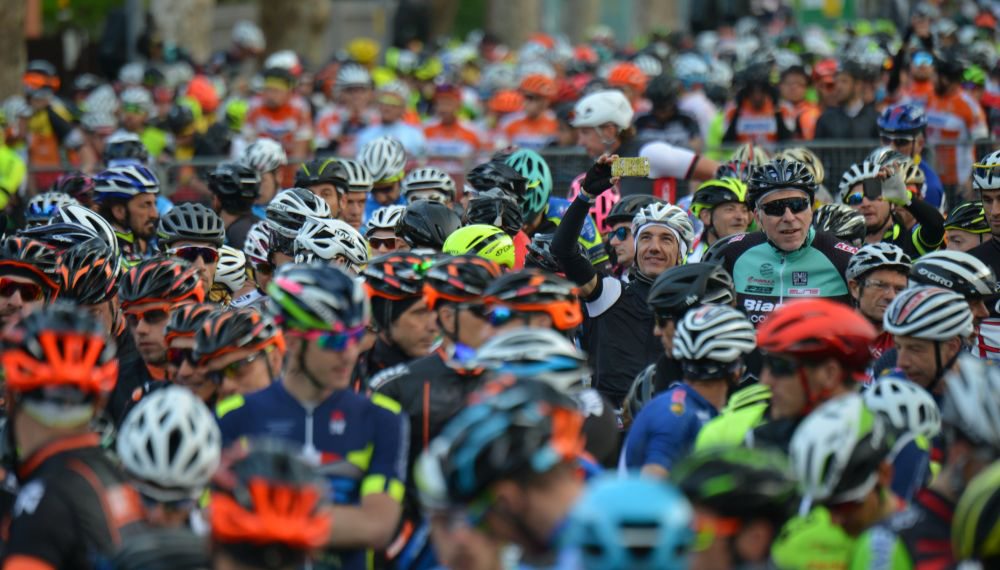 Fair value for all at iconic 2019 GF Gimondi Bianchi
The organizers of the Granfondo – "Tribute to the Magnificent 7" – pay great attention to any single detail to facilitate every participant joining Bergamo: the race start is only five minutes away from the airport
The GF Gimondi Bianchi "Tribute to the Magnificent 7" (May 5th, 2019) will be once again a cycling race suitable to anyone, in spite of its tribute to the Grand Slam's Giants. Bergamo's race is a very friendly event for all the people joning the Italian city by plane, car or train, for whom looking for a parking or a lodge, before tackling one of the three courses drafted for any kind of rider.
From Bergamo-Orio al Serio's airport, the participants can get to the city center and the Granfondo start in only 5 minutes. Connected to Bergamo city by an effective shuttle bus service, the airport is handy and cheap, the Italian leader in terms of passengers on "low cost" flights. Bergamo-Orio al Serio's "Il Caravaggio" international airport is the third Italian hub for traffic volume: every year approx. 45 million passengers transit by the Milanese airport system (including Malpensa and Linate).
Bergamo can be reached by car from the A4 Milan-Venice Highway (Bergamo Exit), being also easy to get to by those who prefer to travel by bus. You can catch one from Milano Lampugnano, Cadorna and Piazza Castello, directed to Bergamo Bus Station via Autostradale and Nord Est Trasporti (transports in Bergamo's Province: http://bergamotrasporti.it; transports in Lombardy Region: www.muoversi.regione.lombardia.it).
GM Sport organizers set up a special parking space for vehicles, in Monterosso area, from the Rondò delle Valli on the right of the bypass, about 800 meters from the starting line. The camper park is located at Via Corridoni 123 – Bergamo (1 km from the starting line), whilst bus parking can be found on the east side of the grandstand at the "Atleti Azzurri d'Italia" Stadium.
Moreover, the Organising Committee and the Roncalli Group can provide specific solutions to fully satisfy all participants who wish to spend the night in Bergamo on the occasion of the 23rd Granfondo Internazionale Felice Gimondi Bianchi
Dedicated to the "magnificent seven" riders who managed to win the triple crown (Giro d'Italia, Tour de France and Vuelta a Espana), the 2019 Granfondo will be held on the three classic routes – short (89,4 km), medium (128,8 km) and long (162,1 km) – personally drafted by Felice Gimondi.
How to register for 2019 Granfondo Gimondi-Bianchi
You can register for the 23rd edition of Granfondo Gimondi Bianchi either by filling in the online form on the official website www.felicegimondi.it, or at the G.M.S. Sport Office in Via G. Da Campione, 24/c – 24124 Bergamo (tel. +39 035.211721 – fax + 39 035.4227971).