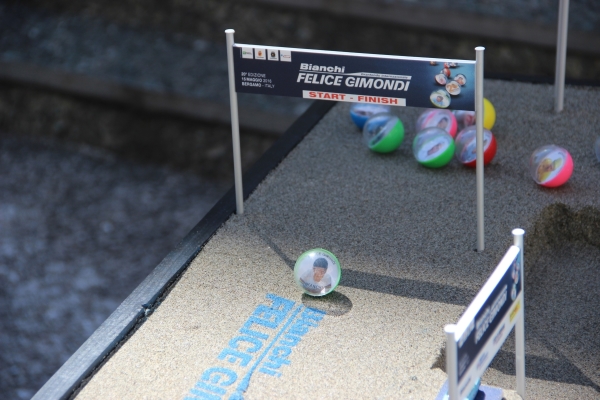 GF Gimondi Bianchi, 20 years young
The popular amateur race was presented in Bergamo on May 15th. Efficiency, creativity and collateral events for an edition aiming for the 4000 participants goal
"Parabolic emotions", that's the promise of the 20th Granfondo Felice Gimondi-Bianchi, presented today – April 14th – in Bergamo, in the headquarter of Credito Bergamasco, long-time partner of the popular event. The marbles picturing the greatest cycling champions, a classic game from gone times, are the icon of an event bound to tradition, and still very innovative.
The connection with the world of arts (celebrated this year with the exposition of Trento Longaretti, on the occasion of his 100th birthday), the beautiful celebrative jersey (a puzzled of all the jerseys won by Gimondi over his career), the permanence at "Lazzaretto" with kids play area are just a few of many elements characterizing the 2016 edition to be raced on Sunday May 15th, with the realistic ambition of bringing 4000 riders to the start.
"We feel proud of having reached our 20th year of history – Felice Gimondi said – and feel grateful to organizer Giuseppe Manenti, who made this event a benchmark for efficiency, perfect organization and safety. Twenty years was also the length of my career in cycling, 14 as pro rider and 6 in the youth ranks, all of them characterized by great commitment and effort. I really wish to congratulate all those who took on this challenge, and won it."
Now an established fixture in the international granfondo calendar (also name sponsor Bianchi will invite guests from all the five continents), Granfondo Gimondi-Bianchi has become an important vehicle of promotion for the city of Bergamo, more and more cherished by visitors from all over the World, as Bergamo's sports assessor Loredana Poli highlighted.
Italian Cycling Federation's Vice-President Michele Gamba openly called GF Gimondi "a practical handbook on event organization." That's one of the reasons why more companies are joining the pool of sponsors of the event, joining long-time partners like Creberg. "Cycling is art, and strongly identifies our territory: this is why we have always supported the event," Roberto Perico of Credito Bergamasco said.
Granfondo Felice Gimondi-Bianchi confirmed for the 2016 edition the three spectacular routes, "short", "medium" and "long", of 89,4 Km, 128,8 km and respectively 162,1 km, highly appreciated by cyclists of all levels and personally designed by Felice Gimondi.
In the meanwhile, registrations to the 20th Granfondo Gimondi Bianchi are open until April 22nd and may be filed for directly online on the official website www.felicegimondi.com, by bank transfer or directly at the headquarters of the organizing company in Bergamo, Via G. Da Campione, 24/c.
For more information: info@felicegimondi.com