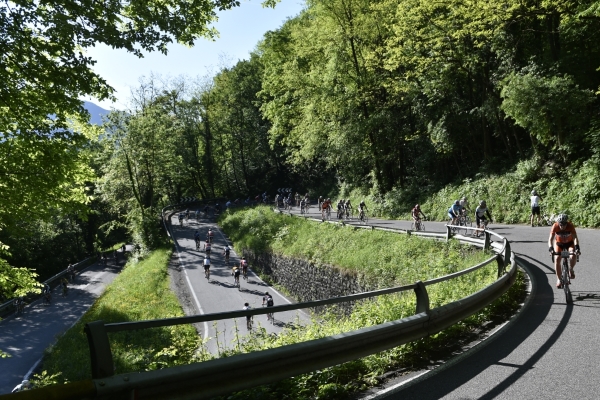 Granfondo Gimondi Bianchi, a friendly classic
Cheap, spectacular, competitive, the Granfondo dedicated to Felice Gimondi is preparing for the 20th edition by underlining the strong points that made it great
Twenty years of history, combining cycling, stunning scenery, art and traditions. The Granfondo Internazionale Felice Gimondi Bianchi is preparing to celebrate its 20th running, that of the Jubilee, which will take place on Sunday, May 15, 2016.
Unchanged start and finish point, Bergamo and the beauty of the province will provide the ideal backdrop to tourists or amateurs who will race the three spectacular routes, "short", "medium" and "long", of 89,4 Km, 128,8 km and respectively 162,1 km, highly appreciated by cyclists of all levels and personally designed by Felice Gimondi.
Nor earlier departure or decision about the favourite course, only the legs will do the talking for the riders during the race, thus determining the ideal distance to complete. All participants will also be equipped with a "chip" that will allow them to check their time at any moment, with no additional cost to the 32 euro entry fee, that is a below average one compared to other very prestigious Granfondo events, a flat rate regardless the date you complete the registration.
In addition, cycling enthusiasts who want to mix the race with a holiday in order to visit the beauties of the province will certainly be enticed by the numerous daily connections with the international airport of Orio al Serio, which is just a few kilometers from the A4 Milano-Venezia, the most important highway of Northern Italy.
Registrations for the 20th edtion of the Granfondo Gimondi Bianchi can be made online on the official website of the event www.felicegimondi.it by filling the online form, or directly at the headquarters of the organizing company in Bergamo, Via G. Da Campione, 24/c ( Tel. +39 035.211721 – fax + 39 035.4227971 – info@felicegimondi.it).