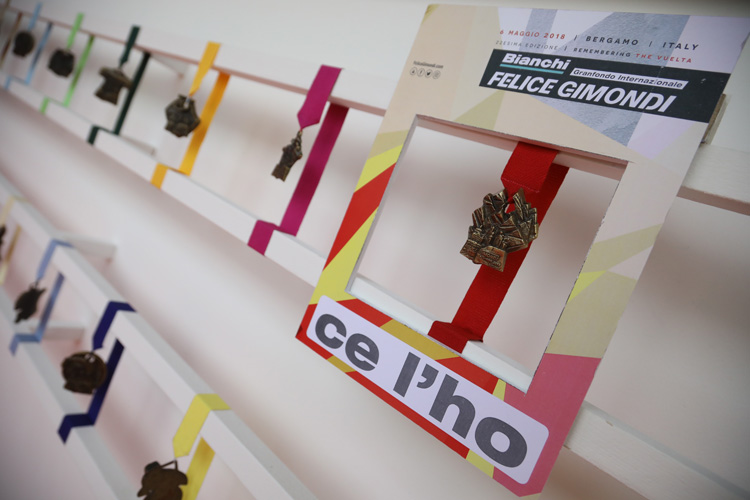 Ready, set: over 4.000 to take in Gf Gimondi in Bergamo on Sunday
The 22nd Granfondo Gimondi-Bianchi remains on top in spite of Granfondo calendar clashes. Tomorrow at 7:00 am a new amazing challenge starts in the memory of many unforgettable friends
The International Granfondo Felice Gimondi Bianchi calls old and new friends to a pure showing of strength on a yearly basis: everybody knows how demanding this race can be, All the three courses are equally tough and beautiful, thanks to the unique landscapes of the Bergamo area. Tomorrow, Sunday May 6th, the tradition renews in Bergamo with legendary Felice Gimondi in the first row as proud starter of the 22nd edition, dedicated to his victory at Vuelta a España of fifty years ago.
The event itself had to endure a significant challenge in the year, due to the clashes of a troublesome Granfondo calendar, that even caused he overlapping of two of its major fixtures. In spite of that, the Bergamo's Granfondo managed to rise higher in the number of participants (4.032), with a more international participation, both in registrations and represented Countries (25, over the five continents), and a higher number of ladies at the start as well.
Powered by the well-established GM Sport organization, the 2018 edition looks in great shape with the hope of a favourable weather to top it off. Whatever happens, the 4.000 riders are ready to go and start on the short course (km 89,4) up to Colle Gallo and Selvino, before deciding whether to switch to the medium (km 128,8 including the KOM in Costa d'Olda) or even the long one (km 162,1), climbing up the Forcella di Berbenno and Costa Valle Imagna. "Everything has been prepared to perfection – iconic Felice Gimondi stated – I'm expecting a memorable day". As usual, the event will also be the occasion to remember some of the Granfondo's friends passed away too early, such as Eugenio Mercorio (to whom the Silvino time trial is dedicated) and Ilario Zonca, whose nome inspired a new photo contest.
Tomorrow at the start, the Granfondo Felice Gimondi Bianchi will also honour the memory of the late Eugenio Aringhieri – Chief Executive Officer of Dompé, the pharmaceutical company sponsoring the event with Friliver Sport brand – who suddenly died in Boston a few days ago. Five minutes before the start, the 4.000 participants will observe a minute's silence, that will start when Eugenio Aringhieri sons, Giorgio e Lorenzo, will free white and blue balloons in the sky.
Afterwards, time for racing will come, start time set at 7:00 am in Viale Marzabotto, in front of Bergamo's football stadium.