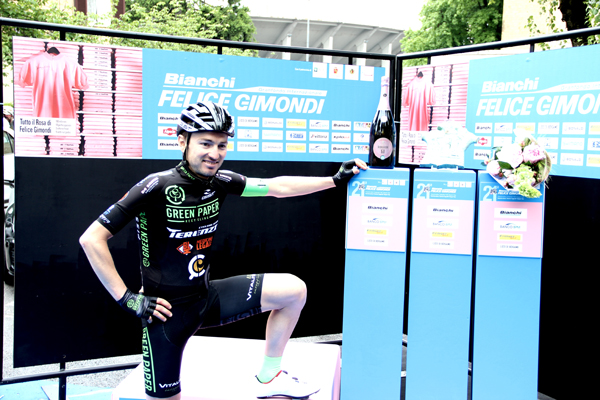 Surprise finish for the 2017 Granfondo Gimondi Bianchi
Andrea Gallo wins the final sprint, but get disqualified due to irregular start. Enrico Zen is the winner on the long route, whilst Simona Parente claims the women's throne on the longest distance
A coup de theatre was the closing act of a beautiful 21st edition of Granfondo Felice Gimondi Bianchi. After 4h40 of tightly contested racing on the 162,1 km distance, a sprint was needed to determine the winner. Andrea Gallo (Team Isolmant), 30-year-old from Piedmont, mechanical expert, got on top of it in front of Enrico Zen (Cycling Team Terenzi) and Belgian Frederic Glorieux, sealing a perfect day that confirmed the excellence of the Granfondo organized in Bergamo by GM Sport.
But it wasn't over: the 30-year-old from Piedmont, the fastest to the finish line on the long route, was scratched from the classification due to rule infringement. While starting with number 2227, the electronic timing system clearly indicated that he taken off from a more favorable grid, as eventually admitted by Gallo. The victory eventually went to the runner-up to the line, Enrico Zen, with Belgian Frederic Glorieux in second and Paolo Castelnovo (Team MP Filtri) on the lowest step of the podium.
Organizer Giuseppe Manenti was neat in commenting such unpleasant episode: "We work for a whole year to set up an event in which the riders' safety and the race regularity must come first. We have just applied the rules."
Enrico Zen was not impressed with the win by default. "Winning to me means coming in first, and today it wasn't like that," said the rider from Bassano del Grappa, a former carpenter, now office employee ("it was too weary").
Simona Parente (Team Isolmant) was first among women for the second year in a row. She's the strongest, no doubt about that.