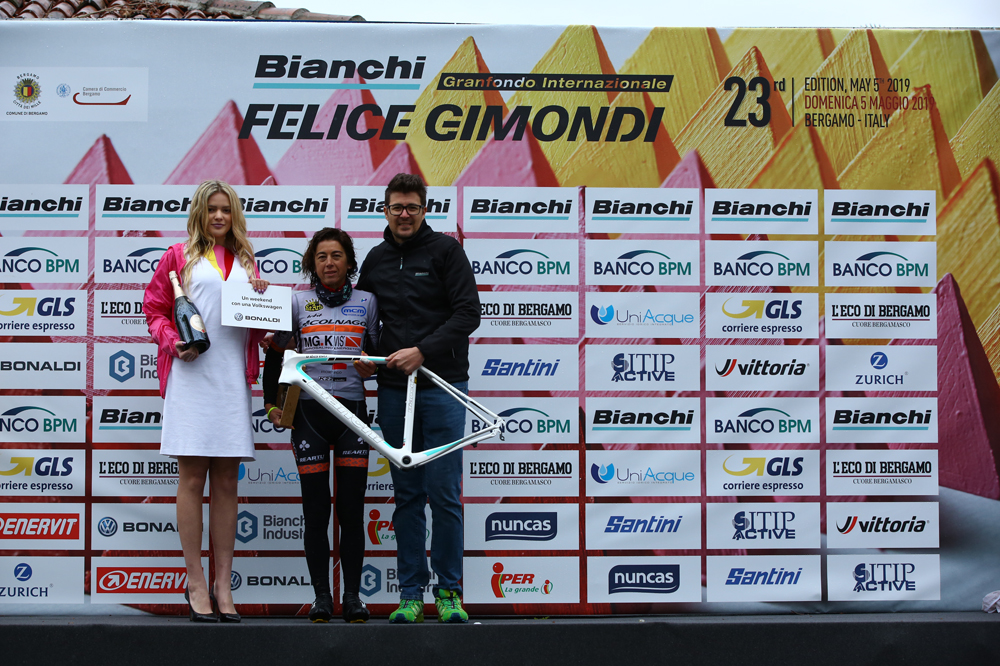 2019 winners are Federico Brevi and Ilaria Lombardo
Federico Brevi claimed win at 23rd Granfondo Gimondi Bianchi in 2:29:29, preceding German Maximilian Hornung (2:31:55) and Luca Cantini (2:32:00). After tenth participations at the Granfondo on the medium and long route, Brevi scored his first success on the short one. Born in Bergamo 32 years ago, Brevi lives in Tirano (Lombardy) where he works in a pharmaceutical factory. "I attacked after the first half of Selvino climb, finally managing to win one of my favorite Granfondos. I'm really happy I took in the race: it couldn't go better for me", Brevi commented.
Twelve months after the nice experience at the 2018 GF Gimondi Bianchi, Maximilian Hornung came back to Bergamo from Aschaffenburg, not far from Frankfurt (Germany), where he heads a pharmaceutical laboratory. "I tried to attack on the first ascent, then I managed to outdistance my rivals in the late race and to clinch the second spot", Hornung said.
Winner of the 2017 GF Gimondi Bianchi on the 128,8 km medium course, Bergamo's Luca Cantini finished in third position his sixth home Granfondo.
In the women's race, Ilaria Lombardo, 49-year-old advertising agent from Parma, scored her fourth win on via Marzabotto's finish: she had already topped the GF Gimondi Bianchi in 2005, 2007 and 2009.