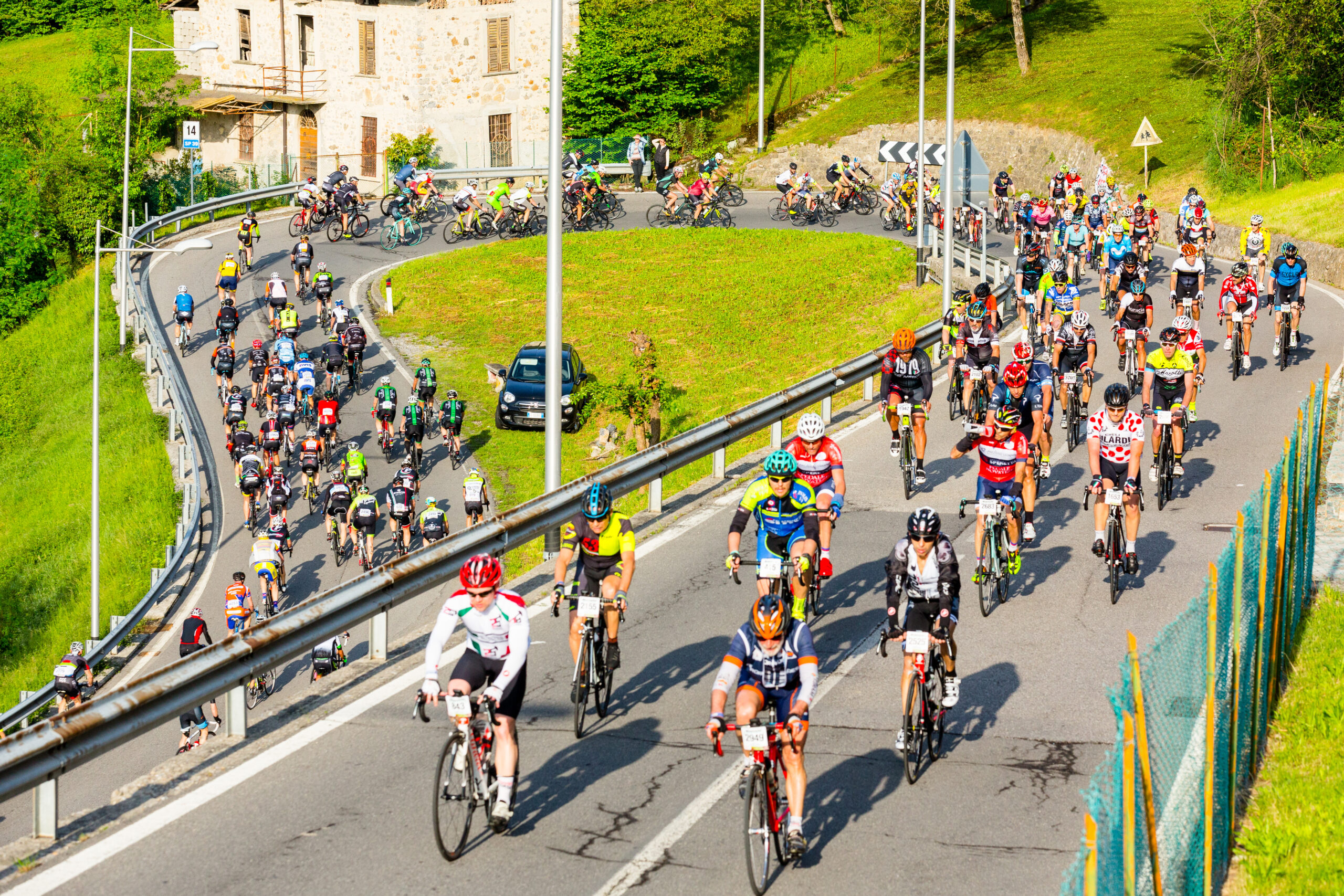 The Granfondo Gimondi Bianchi rejoins the "Prestigio" family
The 24th edition of the event entitled to Felice, to be held in Bergamo on May 10th, returned in the main national cycling4fun circuit gathering the best Granfondo
The Granfondo Felice Gimondi – Bianchi achieved a new and ambitious goal by returning to enrich the "Prestigio" circuit from 2020. Organized by "Cicloturismo" magazine, the circuit includes the main races of the amateur calendar. The participants of the 24th edition, to be held on May 10th in Bergamo, will secure the opportunity to add a piece towards the achievement of the "prestigious" cycling4fun title, completing one of the two main routes among the three available – short (89,4 km), medium (128,8km) and long (162,1 km).
Participation in "Prestigio" is completely free and doesn't require any registration. The circuit's ranking will reward both riders and teams taking part in some of the most representative events of the calendar, without any particular competitive purpose: the time for the Granfondo finish doesn't matter indeed. In order to sew the Scudetto belonging to the "prestigious" riders on the jersey, cyclists from all over the world must complete at least 7 out of 10 Granfondo on the calendar (7 long routes for men, 7 medium routes for women and over 65). On the other hand, the Prestigio circuit will reward the teams with the highest number of athletes covering as many kilometres as possible.
"The come back in the Prestigio circuit – the event's organizer Giuseppe Manenti explained – is a great news, especially since the 2020 edition will be the first without our great and beloved champion. That's why a special thanks go to the magazine Cicloturismo and to all its editorial staff".
2020 Prestigio Calendar
| | |
| --- | --- |
| 8th March 2020 | Granfondo Strade Bianche |
| 5th April 2020 | GF Colnago Cycling Festival |
| 19th April 2020 | GF Via del Sale |
| 10th May 2020 | GF Gimondi Bianchi |
| 17th May 2020 | Granfondo Squali |
| 24th May 2020 | Nove Colli |
| 14th June 2020 | Mont Ventoux |
| 21st June 2020 | GF Sportful Dolomiti Race |
| 5th July 2020 | Maratona dles dolomites |
| 19th July 2020 | Granfondo Pinarello |
| 27th September 2020 | GF Firenze De Rosa |
| October 2020 | Granfondo Campagnolo Roma |
How to register for 2020 Granfondo Gimondi-Bianchi
You can register for the 24th edition of Granfondo Gimondi Bianchi either by filling in the online form on the official website (click here), or at the G.M.S. Sport Office in Via G. Da Campione, 24/c – 24124 Bergamo.
For further information: GM Sport, info@felicegimondi.it, ph. +39 035.211721.
Bergamo (Italy), December 4th 2019